Asparagus Bundles with Muenster Cheese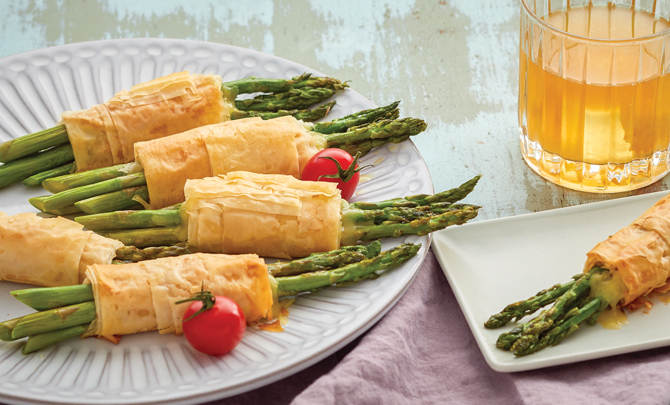 Recipe Description
Both beautiful and delicious! This veggie dish is a crowd favorite for all ages!
Ingredients
6 tablespoons butter, cubed
40 fresh asparagus spears, trimmed (about 1 pound)
Salt and pepper
15 sheets phyllo dough, thawed (14 x 9-inches each)
1 cup (4 oz) Burnett Dairy Muenster Cheese, shredded
Preparation
Heat oven to 350°F. Line a 17 x 12-inch baking pan with parchment paper.
Melt butter in a microwave-safe bowl. Drizzle asparagus with 1 tablespoon butter in a shallow, large bowl. Season with salt and pepper; toss to coat.
Unroll phyllo sheets; keep them covered with plastic wrap and a damp towel. Place one phyllo sheet on a large cutting board. Lightly brush with butter. Layer two additional phyllo sheets; lightly brush each sheet with butter. 
Starting with a long side, fold phyllo sheets into thirds. Cut folded phyllo sheets in half widthwise.
Place 1 tablespoon muenster near a short end of each phyllo strip; top muenster with 4 asparagus spears. Starting at the muenster end, fold strip over asparagus and roll up bundle. Brush the remaining end with butter; roll up to seal. Place on prepared pan seam side down. Repeat with the remaining phyllo sheets, muenster, and asparagus.
Brush bundle tops with butter. Bake for 15-17 minutes or until phyllo strips are golden brown and asparagus is tender.
Recipe and photo © Dairy Farmers of Wisconsin
Recipe Tip:
When working with phyllo dough, keeping the remaining sheets covered with plastic wrap and a damp towel prevents them from drying out.