Bacon, Kale and Caramelized Onion Pizza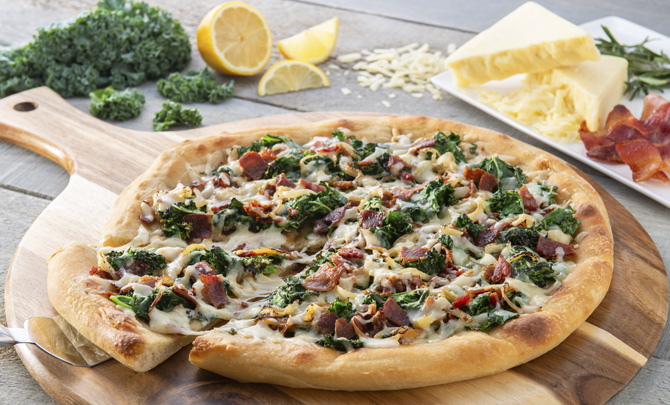 Recipe Description
Yummmm - bacon on pizza with our Original Cheddar Gruyere. We snuck in some veggies to make this a great artisanal slice of heaven!
Ingredients
Dough
1 3/4 cups all-purpose flour

 

(approx.)

 

3/4

 

cup warm water (approx. 105

°

F

 

to 115

°

F

)  

1 1/4 tsp

 

instant active dry yeast 

 

1

 

tsp granulated sugar 

 

1

 

tbsp olive oil 

(approx.)

1

 

tsp salt 

 
Toppings
1 tbsp butter

1 large onion, thinly sliced

1/2 tsp each salt and pepper, divided

3 tbsp olive oil, divided

4 cups loosely packed chopped kale leaves

3 cloves garlic, minced

2 tsp lemon zest

4 tsp finely chopped fresh rosemary

6 slices bacon, cooked and crumbled

1 1/4 cups (5 oz) Wood River Creamery Original Cheddar Gruyere, shredded

4 tsp finely chopped fresh chives
Preparation
Dough
In a bowl, stir together 1/4 cup flour, warm water, yeast and sugar; let stand for 5 to 10 minutes or until mixture starts to look bubbly and frothy. Using wooden spoon, stir in olive oil, remaining flour and salt to make loose dough. Transfer to lightly floured surface; knead for 10 to 15 minutes, adding flour as needed, to make soft, elastic, and slightly sticky dough. 
Form dough into ball; transfer to lightly greased bowl. Brush top of dough lightly with oil; cover with wet kitchen towel. Let stand in warm spot for about 2 hours or until doubled in size. Punch down dough; transfer to airtight container or resealable plastic bag. Refrigerate overnight; let stand at room temperature for 2 hours.
Toppings
Melt butter in skillet set over medium heat; cook onion, and 1/4 tsp salt and pepper for 5 to 8 minutes or until slightly browned. Reduce heat to low; cook for 20 to 25 minutes or until golden brown. Let cool completely.
Heat 4 tsp of the oil in skillet set over medium-high heat; sauté kale, garlic, lemon zest, and remaining salt and pepper for 3 to 5 minutes or until wilted. Let cool completely.
Pizza Assembly
Preheat oven to 500˚F. On lightly floured surface, roll out dough into 8-inch round. Using hands, stretch dough into 12-inch round, about 1/4-inch thick. Transfer to lightly greased 12-inch pizza pan.  
Brush dough with remaining oil and sprinkle with rosemary. Scatter caramelized onion, kale mixture and bacon over top. Sprinkle with cheese.
Bake until crust is golden brown and cheese is bubbling, 15 to 20 minutes. Garnish with chives.
Tips:
• Substitute 1 lb store-bought pizza dough for homemade dough.  
• Sauté kale with a pinch of hot pepper flakes if desired.
• Use 1/2 cup store-bought caramelized onions, if desired.