Bacon & Onion Spring Quiche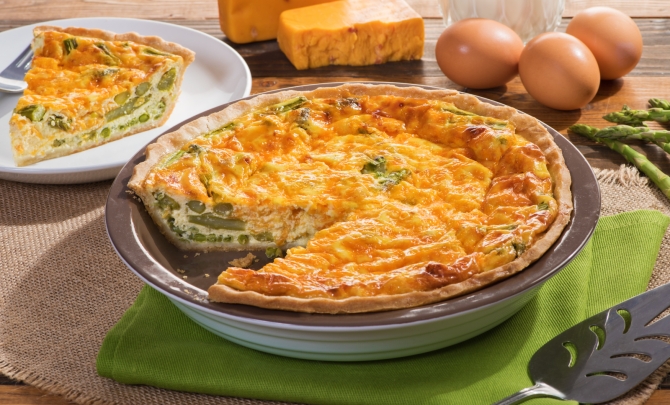 Recipe Description
Easy, delicious quiche that will take no time to prepare and your friends will ask for the recipe.
Ingredients
3 eggs
1 cup light cream
1 tbsp finely chopped fresh tarragon
1 clove garlic, minced
1/4 tsp each salt and freshly ground pepper
1 cup Burnett Dairy Colby Bacon & Onion Cheese, shredded
1 cup asparagus, cut into 1-inch pieces 
1/3 cup frozen peas, thawed
Pie Pastry:
1 1/4 cups all-purpose flour
1/2 cup cold unsalted butter, cubed 
1/2 tsp salt
Preparation
Pie Pastry: In food processor, pulse flour, butter and salt until mixture resembles coarse meal; add 4 tbsp water, 1 tbsp at a time, until dough comes together. 
Shape dough into ball and flatten into disk; wrap with plastic wrap. Refrigerate for at least 1 hour or for up to 2 days. Let stand at room temperature for 10 minutes before rolling. 
On lightly floured work surface, roll out pastry into 10-inch circle, about 1/4-inch thick. Fit into 9-inch pie dish, trimming any excess dough. Refrigerate pastry for 30 minutes.
Preheat oven to 375°F. Line pastry shell with foil; fill with pie weights or beans. Bake in bottom third of oven for 30 minutes. Remove foil and weights; bake for 10 minutes. Remove from oven; let cool on rack. 
Meanwhile, whisk together eggs, cream, tarragon, garlic, salt and pepper until blended; add 3/4 cup cheese. Sprinkle asparagus and peas into bottom of tart shell. Pour in egg mixture. Top with remaining cheese; bake for about 30 minutes or until pastry is golden brown and quiche is set. Let stand for 10 minutes.