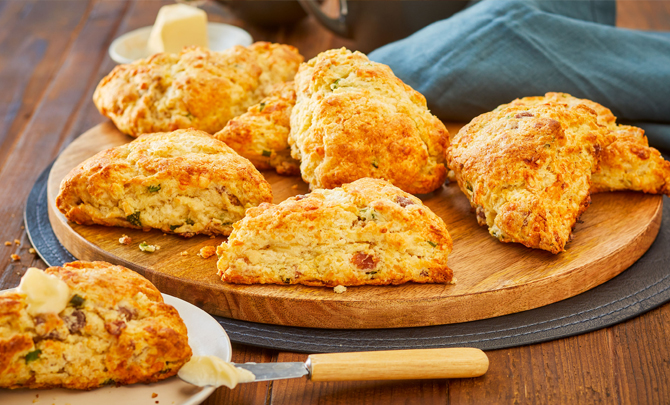 Recipe Description
Crunchy on the outside, soft and fluffy on the inside, and filled with Cheddar Gruyere!
Ingredients
2 cups all-purpose flour
1 tablespoon sugar
2 teaspoons baking powder
1/2 teaspoon salt
1/2 cup (1 stick) cold butter, cubed
1 cup (4 oz) Wood River Creamery Original Cheddar Gruyere, shredded
1/2 cup chopped prosciutto
1/3 cup chopped green onions
3/4 cup plus 1 tablespoon heavy whipping cream, divided
1 egg
Softened butter
Preparation
Heat oven to 425°F. Line a 15 x 10-inch baking pan with parchment paper.
Combine the flour, sugar, baking powder and salt in a large bowl. Cut in butter until mixture resembles pea-sized crumbs.
Toss in the cheddar gruyere, prosciutto and green onions. Whisk 3/4 cup cream and egg in a small bowl; add to flour mixture just until moistened and a dough forms.
Turn dough onto a lightly floured surface; knead just to combine. Shape dough into an 8-inch circle, about 3/4-inch thick. Cut into eight wedges.
Transfer wedges to prepared pan. Cover with plastic wrap. Refrigerate for 30 minutes. Brush dough with remaining cream.
Bake for 22-24 minutes or until golden brown. Serve warm with butter.

Recipe and photo © Dairy Farmers of Wisconsin