Best Pepperoni Pizza Burgers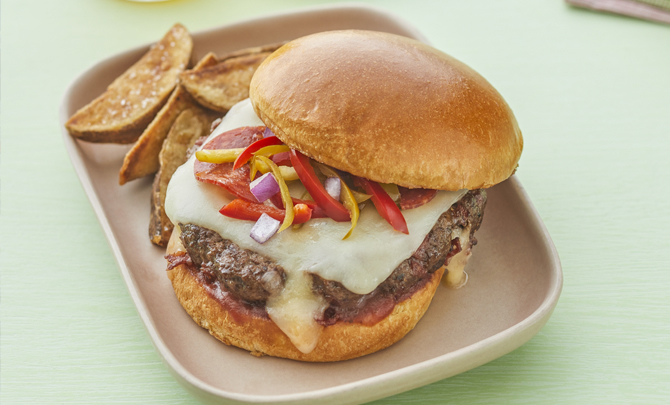 Recipe Description
Refresh your burgers with dreamy, melty Mozzarella coupled with summertime's brightest colors and flavors!
Ingredients
1 1/2 cups (6 oz) Burnett Dairy Mozzarella Cheese, shredded
1 cup diced pepperoni
3/4 cup pizza sauce, divided
1 tablespoon dried oregano
2 pounds lean ground beef (80% lean)
Salt and pepper
1 1/2 cups (6 oz) Burnett Dairy Mozzarella Cheese, cut into six slices
6 hamburger buns, split
Optional Toppings: pepperoni, pickled and bell peppers, red onion and ripe olives
Preparation
Grease grill grate. Heat grill to medium.
Combine the shredded mozzarella, pepperoni, 1/2 cup pizza sauce and oregano in a large bowl. Crumble ground beef over mixture; mix just until combined. Form into six patties, about 1/3 pound each. Season with salt and pepper.
Grill burgers, covered, over medium heat for 5-8 minutes on each side or until a thermometer inserted in patties reads 160°F. Top with mozzarella slices. Cover and cook for 1-3 minutes longer or until cheese is melted.
Spread bun bottoms with remaining pizza sauce; top with burgers and toppings if desired. Replace bun tops.
 
Recipe and photo © Dairy Farmers of Wisconsin