Biscuits with Sausage, Apples and Cheddar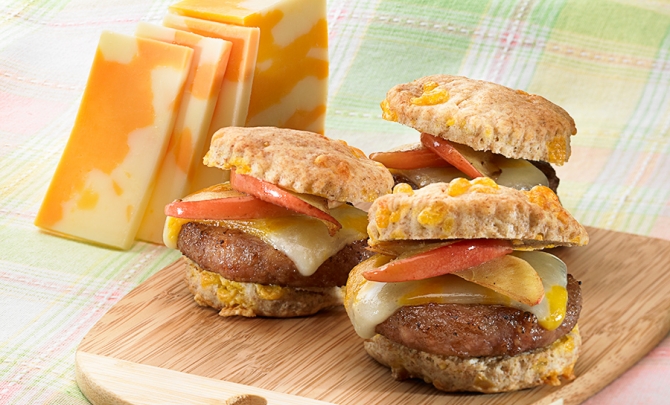 Recipe Description
Great recipe for biscuits with sausage, apples and cheddar. 
Ingredients
1 cup white flour
1 cup whole wheat flour
2 teaspoons baking powder
1/2 teaspoon baking soda
6 tablespoons butter
1 1/2 cups (6 ounces) Burnett Dairy Sharp Cheddar Cheese, shredded
3/4 cup buttermilk
2 12-ounce packages brown-and-serve sausage patties or 1 1/2 pounds bulk breakfast sausage formed in 20 2-1/2-inch patties
20 slices (about 1/2 ounce each) Burnett Dairy Gold'n Jack or Cheddar Cheese, cut size to cover patties
2 apples such as Gala or Fuji, cored and cut in slices 1/8-inch thick
Preparation
Preheat oven to 450°F. Place flours, baking powder and baking soda into bowl. Mix well. Cut cold butter into small chunks and blend into dry ingredients until mixture resembles coarse crumbs. Add shredded cheese, blending well. Add buttermilk a little at a time and mix gently to form soft dough. Knead 20-25 times on lightly floured surface. Roll into 1/2-inch thickness. Cut into 2-inch biscuits. Bake 10-12 minutes, until golden brown. Remove to racks. 
Meanwhile, fry sausage patties until done. Drain on paper towels. Place cheese slice on each patty. Sauté apples in sausage fat in same skillet until tender, about 5 minutes. Halve warm biscuits. Place patty with cheese on bottom half. Spread a few apple slices over and place biscuit top over. Serve immediately.
Recipe and Photo: © 2015 Wisconsin Milk Marketing Board, Inc.