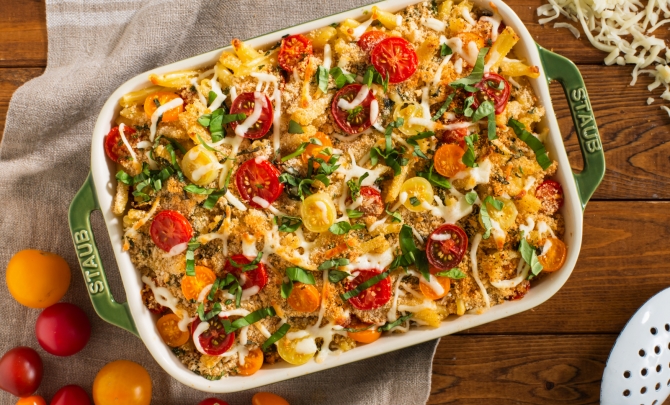 Recipe Description
Not your classic mac 'n cheese, this Caprese style dish includes fresh tomatoes, basil, and creamy cheese sauce. 
*This recipe is designed for foodservice application and would need adjusted for personal use. 
Ingredients
1/4 cup butter
1 small onion, finely chopped
2 cloves garlic, minced 
1/3 cup all-purpose flour
5 cups milk
1 cup heavy whipping cream (35%)
1 tsp dried oregano
1 tsp each salt and pepper 
1/4 tsp ground nutmeg
4 1/2 cups (18 oz) Burnett Dairy 3 Cheese Blend Shred (Mozzarella, Provolone, Cheddar)
 
Garlic-Parmesan Cheese Crumb:
1 cup bread crumbs
3/4 cup grated Parmesan cheese
1/4 cup olive oil 
4 cloves garlic, minced
1/4 cup chopped fresh basil
Assembly: 
2 lb Gemelli pasta
4 cups halved grape tomatoes
1/2 cup chopped fresh basil 
Fresh parsley (for garnish)
Preparation
Cheese Sauce: Melt butter in large wide saucepan set over medium heat; cook onion and garlic for about 5 minutes or until softened. 
Sprinkle in flour; cook, stirring constantly, for 1 to 2 minutes. Slowly whisk in milk and cream until smooth; bring to boil, stirring constantly. Reduce heat; cook, stirring frequently, for 8 to 10 minutes or until sauce thickens slightly. Stir in oregano, salt, pepper and nutmeg. Remove from heat; stir in cheese. 
Garlic-Parmesan Cheese Crumb: Toss together bread crumbs, Parmesan cheese, oil, garlic and basil. 
Assembly: Cook pasta according to package directions; drain and reserve 1 cup pasta water. Immediately toss cooked pasta with Cheese Sauce, grape tomatoes and basil. If mixture seems too thick, stir in 2 oz pasta water at a time to loosen as needed. 
Transfer to buttered full 2 1/2-inch-deep hotel pan. Sprinkle evenly with Garlic Parmesan Cheese Crumb. Can be assembled up to 1 day before service, covered and refrigerated.
Before service, preheat oven to 375°F. Cover with foil and bake for 20 minutes. Remove foil and bake for about 15 minutes or until golden brown and bubbling. 
For service, keep warm in steam table or warmer.
For each serving: Scoop into 1 /4 cup portions (8 oz). Garnish with parsley.
Tip: Alternatively, assemble mac 'n' cheese in individual baking dishes or crocks, then heat to order.