Cheddar-Almond Pie with Cranberry Streusel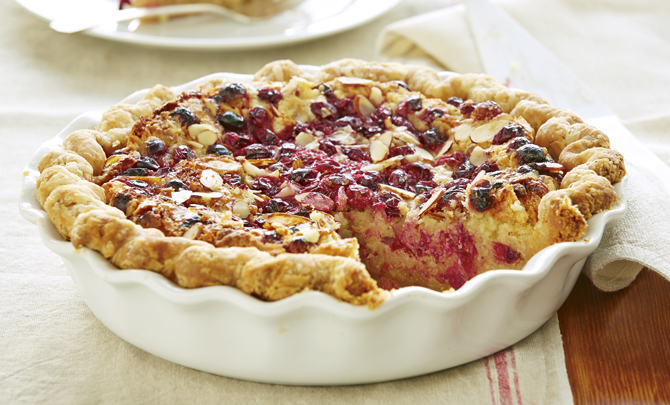 Recipe Description
One bite of this delicious pie will convince you that this cranberry-cheddar cheese pairing was destined for dessert.
Ingredients
1 sheet refrigerated pie pastry
2 1/4 cups slivered almonds (8 ounces)
2 cups (8 oz) Wood River Creamery Original Cheddar Gruyere, shredded
1 cup (2 sticks) butter, softened
1 1/3 cups sugar
2 large eggs
4 teaspoons all-purpose flour
2 teaspoons cornstarch
4 teaspoons vanilla extract
Cranberry-Almond Streusel 
1 cup fresh or frozen cranberries, thawed
1/2 cup sliced almonds (about 4 ounces)
1/4 cup packed brown sugar
Preparation
Heat oven to 350°F.
Roll out pie pastry on a lightly floured surface. Transfer to a 9-inch pie plate, and trim pastry to 1/2 inch of plate; flute edges.
Place slivered almonds in a food processor; cover and process until finely ground. Add cheddar; cover and pulse until cheddar mixture resembles coarse sand.
Cream butter and sugar in a large bowl until light and fluffy. Add the eggs, flour, cornstarch, vanilla and cheddar mixture; beat just until mixture is blended. Spoon into pastry.
Cranberry-Almond Streusel
Combine the cranberries, sliced almonds, and brown sugar in a bowl; sprinkle over filling. Lightly pat streusel.
Bake for 50-60 minutes or until filling is set and puffs slightly in center. Lightly cover with foil if crust or cranberries are over-browning. Cool on a wire rack. Refrigerate leftovers.
Recipe and photo © Dairy Farmers of Wisconsin