Cheddar Gruyere Prosciutto Flatbread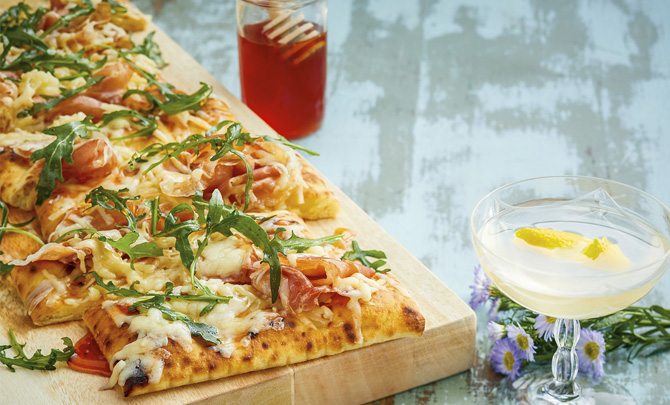 Recipe Description
Sprinkled with our Original Cheddar Gruyere and drizzled with honey — a sweet and savory favorite.
Ingredients
2 store-bought flatbread crusts or naan flatbreads (about 9 x 7-inches each)
1 1/2 cups (6 oz) Wood River Creamery Original Cheddar Gruyere, shredded
3 oz thinly sliced prosciutto, coarsely chopped
2 cups fresh baby arugula or baby spinach
1 tablespoon olive oil
Salt and pepper to taste
1/2 cup honey
1 teaspoon Thai red chili paste
Preparation
Place pizza stone on lower rack in a cold oven. Heat oven to 400°F. Bake stone for at least 30 minutes.
 
Sprinkle each flatbread with 1/2 cup Wood River Creamery Original to within 1/2 inch of edges; top with prosciutto. Sprinkle with remaining Wood River Creamery Original. Transfer to stone. (Stone will be hot!) Bake on stone for 10-12 minutes or until crust edges are golden brown and cheese is melted. Transfer to cutting board.
 
Meanwhile, drizzle arugula with olive oil in a medium bowl. Season with salt and pepper to taste; toss to coat. Combine honey and chili paste in a small bowl. Top flatbreads with arugula; drizzle with honey mixture. Cut into pieces and serve immediately.