Cheesy Hashbrown Waffles with Poached Eggs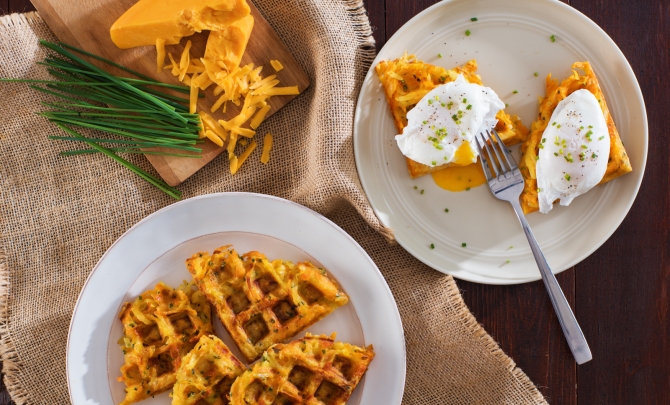 Recipe Description
Skip the syrup and try these savory hashbrown waffles, topped with poached eggs.
Ingredients
Hash Brown Waffles:

2 Yukon Gold potatoes, peeled
1 sweet potato, peeled 
1/2 cup Wood River Creamery Northwoods Cheddar Cheese, shredded
2 tbsp melted unsalted butter
1/2 cup all-purpose flour 
2 tbsp cornstarch
3 tbsp chopped fresh chives, divided 
1/2 tsp salt
1/4 tsp pepper 
1 egg, beaten

Poached Eggs: 
Preparation
Hash Brown Waffles: Using box grater, coarsely grate Yukon Gold and sweet potatoes. Sprinkle over clean tea towel and roll into log. Twist and squeeze to release excess moisture. Mix together shredded potato, cheese, butter, flour, cornstarch, 2 tbsp chives, salt, pepper and egg.
Heat waffle iron according to manufacturer's instructions and grease grids well. Spread half of the potato mixture in waffle grid; cook for 6 to 8 minutes or until crisp on the outside and potatoes are cooked and tender. Carefully remove from waffle iron using tongs or spatula. Repeat with remaining batter. 
Poached Eggs: Meanwhile, pour enough water to come 2 inches up side of large straight-sided skillet; bring water and vinegar to simmer over medium heat. Crack 4 eggs into small dish and slip into water. Poach for 3 to 5 minutes or until white is set and yolk is cooked to desired doneness (3 minutes for runny yolks and 5 minutes for firmer yolks). Repeat with remaining eggs. 
To serve, cut waffles in half and top each with 2 poached eggs. Sprinkle with remaining chives. 
Tip: Serve waffles with slice of smoked salmon or ham over top if desired.