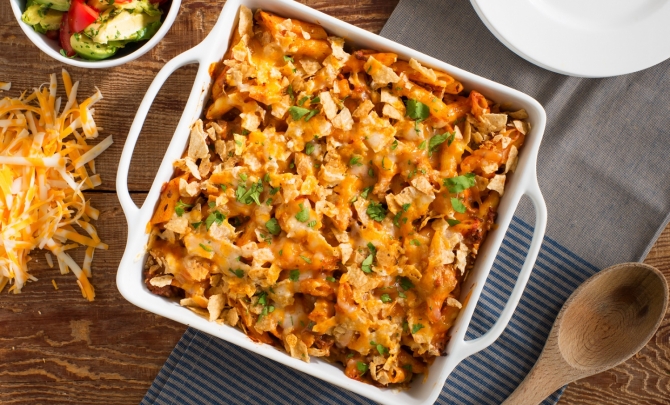 Recipe Description
Who says pasta has to be Italian? Try this Cheesy Taco Pasta Bake for a Mexican spin on a family classic!
Ingredients
2 tbsp vegetable oil
2 onions, diced
6 cloves garlic, minced  
2 lb lean ground beef
1 tbsp dried basil
1 tbsp dried thyme
1 tbsp ground cumin
2 tsp dried oregano
1 tsp cayenne pepper
1 tsp paprika
1 1/2 tsp salt 
1 tsp pepper 
3/4 cup tomato paste 
3 cans (each 28 oz) tomato sauce
1/4 cup chopped fresh parsley 
3 lb short pasta, such as ziti or penne, cooked al dente and drained
3 cups (12 oz) Burnett Dairy Gold'n Jack Cheese, shredded & divided
2 cups crumbled tortilla chips 
1/4 cup chopped fresh cilantro
Preparation
Heat oil in large saucepan set over medium-high heat; cook onions and garlic for 3 to 5 minutes or until softened. Add ground beef, basil, thyme, cumin, oregano, cayenne, paprika, salt and pepper. Cook, breaking up beef with wooden spoon, for 10 to 15 minutes or until well browned. 
Add tomato paste and cook for 2 minutes. Add tomato sauce; bring to boil. Reduce heat to medium-low; simmer for 30 minutes. Stir in parsley.
Preheat oven to 375°F. Toss sauce with pasta and 2 cups cheese. Spread in shallow, full-size hotel pan. Sprinkle with remaining cheese and tortilla chips. Cover with foil; bake for 45 minutes or until warmed through and cheese has melted. Let stand for 15 minutes; sprinkle with cilantro before serving.