Cheesy Truffle Mushroom Fettuccine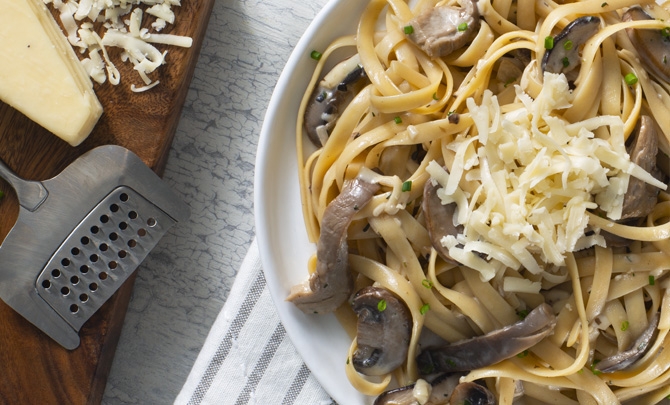 Recipe Description
This pasta is the ultimate comfort food. Creamy, cheesy, and delicious!
 
Ingredients
1 lb fettuccine

2 tbsp olive oil

1 lb mixed mushrooms (cremini, oyster, shitake), sliced

2 small shallots, diced

2 cloves garlic, minced

1 tbsp chopped fresh thyme

1/2 tsp salt

1/4 tsp pepper

1 cup 35% heavy cream

1 1/2 cups shredded (6 oz) Wood River Creamery Black Truffle Cheddar Gruyere

2 tbsp chopped fresh chives
Preparation
Cook fettuccine according to package directions. Drain, reserving 1/3 cup cooking liquid.
Meanwhile, heat oil in a large skillet set over medium-high heat; cook mushrooms, shallots, garlic, thyme, salt and pepper, stirring occasionally, for 5 to 8 minutes or until mushrooms are browned.
Stir in cream; reduce heat to medium. Simmer for 3 to 5 minutes or until the mixture is thickened slightly.
Add fettuccine, reserved cooking liquid and 1 cup of the cheese to skillet; toss until pasta is well coated. 
Divide among plates; sprinkle with remaining cheese and chives. 
TIPS: Use any mixture of available mushrooms. Instead of fresh thyme, use fresh rosemary, or 1 tsp dried thyme or rosemary. Use your favorite pasta – spaghetti, penne, etc., or substitute gluten-free pasta. Instead of shallots, use white or red onions.