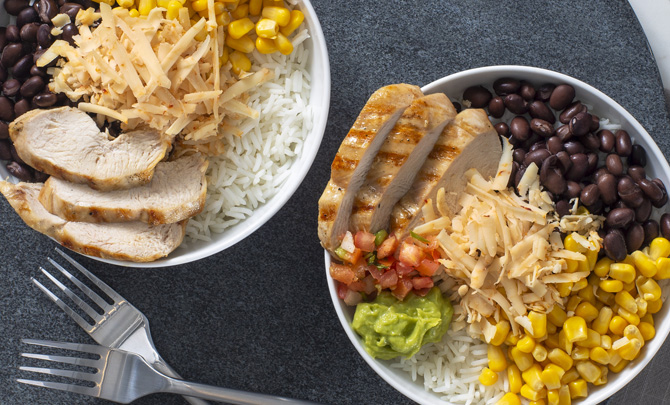 Recipe Description
This easy cheesy chipotle bowl is filling, delicious and great for a quick weekday lunch.
 
Preparation
Cook black beans in 3 cups salted boiling water until tender. Drain and rinse under cold water.
Preheat grill to medium heat. Season chicken breasts with salt and pepper. Grill, 10 to 12 minutes, or until cooked through. Grill corn alongside the chicken for 2 to 3 minutes per side or until charred and tender. 
Slice chicken thinly. Once cool enough to handle, cut kernels off of the cob.
Divide hot cooked rice evenly among four bowls. Top evenly with cooked black beans and grilled corn. 
Arrange warm chicken over top and immediately sprinkle with cheese to slightly melt. Top with Pico de Gallo and guacamole.

TIPS: Make this recipe vegetarian by substituting chicken with roasted sweet potato or cauliflower. Mix and match with your favorite toppings and base ingredients. For example, use quinoa or farro as the base. Substitute black beans with chickpeas or pinto beans. Try with shredded kale or cabbage.