Chicken & Black Bean Enchiladas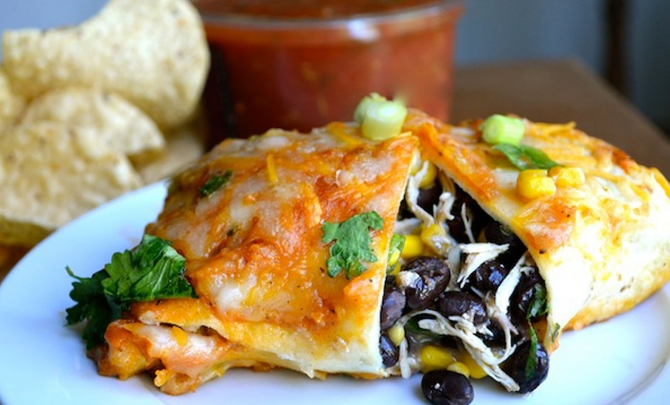 Recipe Description
Adding black beans and corn make these traditional enchiladas a bit more tasty! 
Ingredients
¾-pound boneless, skinless chicken breast, shredded
3 slices cooked bacon, crumbled
2 cloves garlic, minced
1½ cups salsa
16-ounces black beans, drained
15-ounces corn
1 large red bell pepper, chopped
1 teaspoon ground cumin
¼ teaspoon salt
½ cup sliced green onions
12 flour tortillas
1½ cups Burnett Dairy Mild Cheddar Cheese, shredded
Toppings: lettuce, tomato, sour cream,  avocado, cilantro
Preparation
Cook chicken and garlic. Stir in ½ cup salsa, beans, corn, red pepper, cumin and salt. Simmer until thickened, stirring occasionally. Stir in onions and bacon. Spoon ¼ cup bean mixture on tortilla; top with 1 tablespoon cheese. Roll up; place in lightly greased 13x9-inch baking dish. Repeat. Top with remaining 1 cup salsa. Bake at 350° F for 15 minutes. Top with remaining cheese; return to oven about 3 minutes.