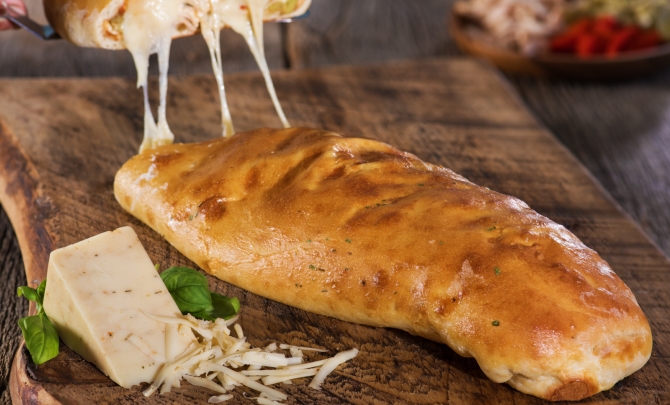 Recipe Description
Shredded chicken, roasted red peppers, artichokes, basil and, Wood River Creamery Herbes de Provence Cheddar Gruyere wrapped in pizza dough.
Ingredients
1 lb pizza dough
1/2 cup pizza or tomato sauce 
2 cups cooked shredded chicken
1/2 cup sliced roasted red peppers
1/2 cup artichoke hearts (packed in water), drained and chopped 
1 1/2 cups (6 oz) Wood River Creamery Herbes de Provence Cheddar Gruyere, shredded & divided
1/4 cup fresh basil leaves, thinly sliced 
1 egg, lightly beaten 
Preparation
Preheat oven to 375°F. On lightly floured surface, roll out pizza dough into 18- x 12-inch rectangle. Spread tomato sauce over middle third of dough, leaving 1-inch border at opposite edges. 
Sprinkle chicken, red peppers and artichokes lengthwise along center of dough. Sprinkle 1 cup cheese, and basil over top.
Starting at one long edge, fold bottom third of dough over filling. Fold over remaining dough. Transfer to parchment paper–lined baking sheet. Whisk egg with 1 tsp water; brush over top of dough.
Bake for 35 to 40 minutes. Sprinkle with remaining cheese; bake until golden and cheese has browned. Let cool for 8 to 10 minutes on baking sheet. Using serrated knife, cut into thick slices.