Chipotle Garlic Cheddar Sticks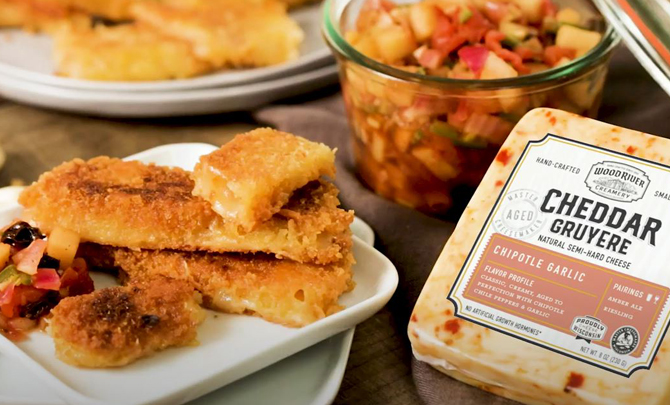 Recipe Description
Served with sweet, sour, and spicy tomato chutney, these irresistible cheese sticks are a fun appetizer for sharing.
 
Ingredients
Spicy Tomato Chutney
6 ripe plum tomatoes
1 apple, peeled, cored, and chopped
1 onion, chopped
1 jalapeño pepper, seeded and chopped
2/3 cup cider vinegar
2/3 cup granulated sugar
1/4 cup raisins
1/2 cinnamon stick (2-inch piece)
5 allspice berries
2 whole cloves
1 tbsp minced fresh ginger
1 clove garlic, minced
1 tsp chili powder
1/2 tsp each salt and pepper
1/4 tsp cayenne pepper
Cheese Sticks
1/3 cup all-purpose flour
1 egg, beaten
1 1/4 cups panko bread crumbs
Canola oil
1/4 tsp each salt and pepper
Preparation
Spicy Tomato Chutney: Score an X at the base of each tomato with a paring knife. Add to pot of boiling water; boil for 1 minute. Transfer to the bowl of ice water. Remove skins with a paring knife. Remove seeds; chop tomatoes coarsely.
In a high-sided skillet or saucepan, combine tomatoes, apple, onion, jalapeño, vinegar, sugar, raisins, cinnamon stick, allspice, cloves, ginger, garlic, chili powder, salt, pepper, and cayenne; bring to boil over medium-high heat.
Reduce heat to medium; simmer, stirring frequently, for about 30 minutes or until thickened and the mixture is reduced to a jam-like consistency. Let cool completely. Remove cinnamon stick, allspice berries, and cloves. Ladle into clean 2-cup Mason jar. Let cool completely and seal with lid. Can be refrigerated for up to 1 month.
Cheese Sticks: Cut cheese into eight 3 x 1/2- x 1/2-inch fingers. One at a time, dredge each cheese stick in flour, dip in beaten egg, then roll in bread crumbs until well coated. Place on parchment paper-lined tray. Let stand for 5 minutes.
Meanwhile, pour enough oil into a small high-sided skillet to come 2 inches up side; heat over medium heat until an instant-read thermometer reads 350°F. Working in batches, carefully slide breaded cheese sticks into hot oil; fry for 2 to 3 minutes or until golden brown. Using tongs or a slotted spoon, transfer to a paper towel-lined tray. Sprinkle with salt and pepper. Serve with chutney.
Tip: The chutney is also great with grilled cheese sandwiches and cheeseburgers.