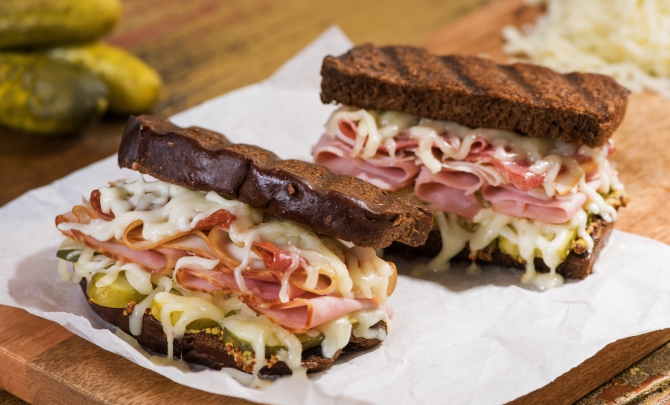 Recipe Description
A traditional Cuban hot ham and cheese sandwich loaded with our high quality mozzarella cheese.
Ingredients
8 slices pumpernickel bread
3 tbsp grainy mustard
12 pickle slices, drained well
2 cups (8 oz) Burnett Dairy Mozzarella Shredded Cheese
8 thin slices ham
8 thin slices turkey 
8 thin slices salami
2 tbsp butter, at room temperature
Preparation
Spread 4 slices of bread with mustard. Layer pickles, half of the cheese, 2 slices each of ham, turkey and salami, and remaining cheese over top. Cap with remaining slices of bread. Butter outer slices of bread with butter.
Preheat panini press according to manufacturer's instructions. Grill sandwiches for 3 or 4 minutes or until bread is toasted and cheese is melted.  
Tip: Use your favorite salami: try Genoa, Hungarian or summer sausage.
Tip: If you don't have a panini press, cook the sandwiches in a grill pan or cast iron frying pan, pressing the sandwich flat with a weight on top, such as a heavy frying pan or a brick wrapped in foil.