Gouda Stuffed Burgers with Caramelized Onions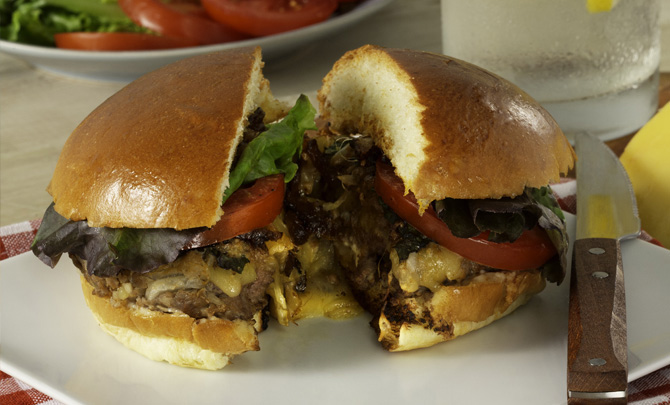 Recipe Description
Served on a buttery brioche bun and piled high with maple-glazed caramelized onions, this grilled burger, oozing with Cady Creek Farms Gouda Cheese, is decadent.
Ingredients
2 tbsp butter

2 large cooking onions, thinly sliced

1/4 tsp each salt and pepper

1 tbsp maple syrup

1 tbsp cider vinegar
Gouda Stuffed Burgers:
1 1/2 lb medium ground beef

1/4 cup bread crumbs

1 egg

1/4 cup grated onion

2 cloves garlic, minced

2 tbsp Dijon mustard, divided

1 tbsp tomato paste

2 tsp Worcestershire sauce

1 tsp each salt and pepper

4 oz Cady Creek Farms Gouda Cheese, cut into four slices

4 brioche buns

1/4 cup mayonnaise

4 lettuce leaves

4 thick slices of tomato
Preparation
Melt butter in a large skillet set over medium heat; cook onions, salt, and pepper for about 5 minutes or until slightly softened. Reduce heat to medium-low; cook, stirring often, for about 40 minutes or until golden brown. Stir in maple syrup and vinegar; cook for 2 minutes. Set aside.
Gouda Stuffed Burgers: In a large bowl, gently mix together beef, bread crumbs, egg, grated onion, garlic, 1 tbsp mustard, tomato paste, Worcestershire sauce, salt and pepper. Divide into 8 portions and shape into 1/2-thick patties. Sandwich each cheese slice between 2 patties, pinching to enclose cheese and seal edges.
Preheat grill to medium-high; grease grate well. Grill burgers for 10 to 12 minutes or until meat is cooked through and the temperature reaches 160°F on the instant-read thermometer when inserted into burgers. Meanwhile, grill buns for about 1 minute or until lightly toasted.
Spread mayonnaise and remaining mustard over buns. Assemble burgers in buns with lettuce, tomato, and caramelized onions.

Tips: For moist, juicy burgers, use medium ground beef and mix gently before shaping the patties. This will prevent a dense texture and shrinking. Also, top with bacon, if desired.