Herbed Cheesy Potato Gratin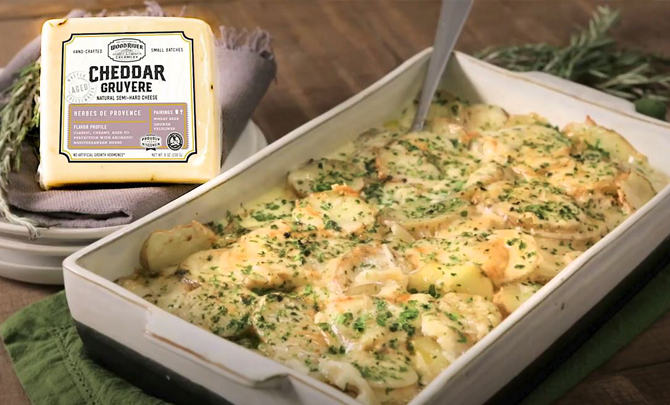 Recipe Description
Potato gratin is the comfort food we all need. Add in Wood River Creamery's specialty Cheddar Gruyere and the dish will transform into a family staple.
 
Ingredients
3 tbsp butter
1 onion, finely chopped
2 cloves garlic, minced
2 cups 35% heavy cream
1 sprig each fresh thyme and rosemary
3 bay leaves
1/2 tsp each salt and pepper
1/4 tsp ground nutmeg
3 lbs Yukon Gold potatoes, thinly sliced
2 cups (8 oz) Wood River Creamery Herbes de Provence Cheddar Gruyere, shredded
2 tbsp finely chopped fresh parsley
Preparation
Preheat oven to 400°F. Melt butter in saucepan set over medium heat; cook onion and garlic for 3 to 5 minutes or until softened. Pour in cream; stir in thyme, rosemary, bay leaves, salt, pepper and nutmeg. Bring to simmer, stirring often. Remove from heat; cover and let stand for 10 minutes. Remove and discard bay leaves, thyme and rosemary sprigs. 
Arrange one-third of the potatoes in greased 9x13 inch casserole. Spoon one-third of the cream mixture over top and sprinkle with one-third of the cheese. Repeat layers twice. 
Cover with parchment paper and foil; bake for 45 minutes. Remove foil and parchment paper. Bake for 30 to 35 minutes or until potatoes are tender, cheese is bubbling and golden, and most of the liquid is absorbed. Let stand for 15 minutes. Sprinkle with parsley. 
Tip: This dish can be made ahead, refrigerated and cut into squares to reheat when needed.