Hickory Smoked Gouda and Ale Soup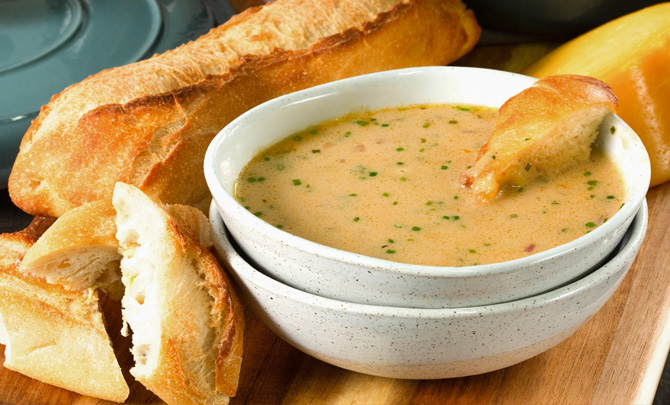 Recipe Description
This rich soup is so comforting on those cooler days. It also makes a delicious starter for casual dinner parties.
Ingredients
1/4 cup butter

1 onion, diced

1 stalk celery, diced

2 cloves garlic, minced

1/3 cup all-purpose flour

1 1/2 cups whole milk

1 cup reduced-sodium chicken broth

1 bottle (12 oz) brown ale (such as Newcastle Brown)

4 tsp Dijon mustard

1 tbsp Worcestershire sauce

1 tsp paprika

1/2 tsp salt and pepper

2 bay leaves

2 cups shredded Cady Creek Farms Hickory Smoked Gouda cheese

2 tbsp finely chopped fresh chives

Crusty bread
Preparation
Melt butter in a large saucepan set over medium heat; cook onion, celery, and garlic for about 5 minutes or until softened. Sprinkle flour over top; cook, stirring, for about 2 minutes or until smooth. 
Slowly whisk in milk and broth until smooth. Bring to boil, stirring constantly. Stir in brown ale, mustard, Worcestershire sauce, paprika, salt, pepper, and bay leaves. Return to simmer and reduce heat to medium-low; cook, stirring frequently, for 15 to 20 minutes or until thickened. Remove bay leaves.
Remove from heat; slowly stir in cheese until melted and smooth. Sprinkle with chives. Serve with crusty bread.