Holiday Charcuterie Board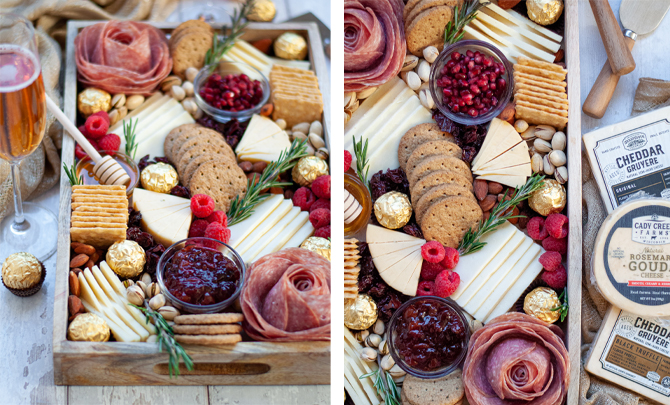 Recipe Description
Build this elegant (& delicious) charcuterie board to help take your gatherings to the next level!
Ingredients
Cheese
Meat
Produce
Pomegranate Seeds (sometimes referred to as Pomegranate Arils)
Fresh Raspberries
Dried Cherries
Crunch
Carr's Whole Wheat Crackers
Crunchmaster Crackers Rosemary Tuscan Peasant Crackers
Pistachios
Lightly Salted Almonds
Dip
Garnish
Making it extra 
Ferrero Rocher chocolate-hazelnut treats
Preparation
**Recipe creation and photos: Our Love Language Is Food
The best cheese boards have a variety of cheeses (I recommend at least 2-3), crackers (I recommend at least 2 kinds), cured meats (if you are not making a vegetarian cheese board), and several sweet and savory accompaniments with a variety of textures for your guests to mix and match and enjoy together. Below outlines what you'll need to add to your charcuterie board shopping list to make the exact board shown in the photos.

HOW TO MAKE A CHARCUTERIE BOARD
Select your serving tray or board. Optionally, line it with parchment paper (I like to do this for easier clean up, and to reduce the likelihood of staining wooden boards).

Add cheese. Cut cheeses and place across multiple sections of your board, leaving room to fill in between cheeses with other board items

Add meat. Make salami roses (here is a tutorial), or fold slices neatly, and place in multiple sections of the board

Add bowls for dips / small items. Add bowls for the preserves, honey, and pomegranate arils and fill designated ingredients

Add crackers. Stack crackers in various sections of the board. As you can see in the photos, I placed the crackers in multiple positions for visual interest.

Add 'extra' chocolates. Distribute the Ferrero Rocher treats throughout the board.

Fill in with nuts, dried fruits, and fresh fruits. Cover the rest of your board with remaining ingredients. The goal is to completely cover your tray!
 
CHARCUTERIE BOARD ACCESSORIES
While you can create a lovely cheese platter without special trays, boards, or other accessories, having a few of these items can elevate your cheese board experience. Below is a list of simple charcuterie board items to add to your entertaining line-up:
Wooden charcuterie board - these come in a variety of shapes and sizes, select a board that you find beautiful! 

Cheese knives - great to have out for guests to use to cut cheese and meats into smaller pieces, or use to spread dips.

Small bowls - for serving spreads and dips, nuts, pickles, and more!
EXPERT TIPS
Cut the cheeses into different shapes for visual interest! Not only does cutting your cheese into various shapes make for a beautiful board, but it can also help your guests tell the cheeses apart.
Want to make this vegetarian cheese board? Skip the salami. You can easily make this into a vegetarian appetizer by removing the salami on this board and filling in the open space with additional cheese, crackers, nuts, and spreads!
Have a small group or want to make this into an easy charcuterie board for two? Select a smaller serving board and fill it in with a reduced amount of each item. We love doing at-home date nights with fancy cheese boards, and the ingredients outlined in this post would be great for a small cheese plate.
DRINK PAIRINGS FOR THIS BOARD
Pair this cheese board with your favorite bubbly beverage - champagne, sparkling wine, or your favorite non-alcoholic sparkling drink. 
**Recipe creation and photos: Our Love Language Is Food
**Learn more about this recipe here.