Kale, Sausage and Mushroom Lasagna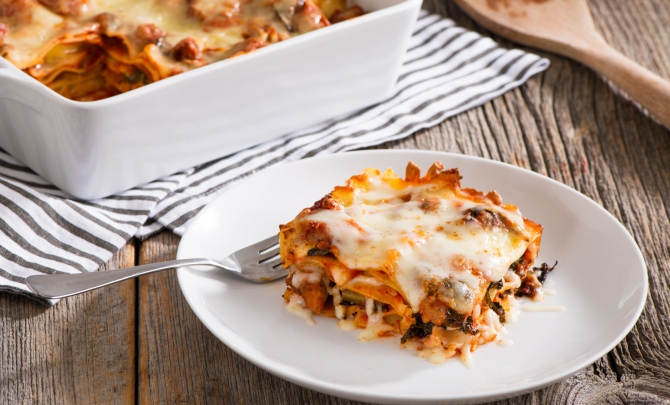 Recipe Description
Great way to add some nutrients to your classic lasagna with kale, sausage and mushrooms!
Ingredients
*This recipe is designed for foodservice applications and would need to be adjusted for personal use.
3 lb sweet Italian sausages, casing removed
4 onions, chopped 
6 cloves garlic, minced 
1 1/2 lb sliced mushrooms
8 cups shredded kale
3 jars (24 oz each) tomato passata
1/3 cup tomato paste 
1 1/2 tsp each salt and pepper
1/2 tsp hot pepper flakes 
1/2 cup chopped fresh basil
24 lasagna noodles (about 1 1/2 lb), cooked and drained 
8 cups Burnett Dairy Provolone Cheese, shredded
1 cup grated Parmesan cheese    
Preparation
Crumble sausage meat into large saucepan set over medium-high heat; cook for 6 to 8 minutes or until browned. Add onions and garlic; cook for 6 to 8 minutes or until softened. Add mushrooms and kale; cook for 10 minutes or until moisture has evaporated and kale is wilted. 
Add passata, tomato paste, salt, pepper and hot pepper flakes; bring to simmer. Cook for 10 to 15 minutes or until slightly thickened; stir in basil. 
Preheat oven to 375°F. Spread 4 cups (1 L) sauce onto bottom of shallow, full-size hotel pan. Top with 8 lasagna noodles in single layer. Top with 4 cups (1 L) sauce and 2 cups (8 oz) Provolone cheese.  Repeat layers 2 more times. Sprinkle top with remaining Provolone and Parmesan cheese; cover with foil.
Bake for 1 hour. Uncover and bake for 15 to 20 minutes or until cheese is browned and lasagna is bubbling. Let stand for 15 minutes; slice into squares.