Mozzarella Ghost Pizza Dip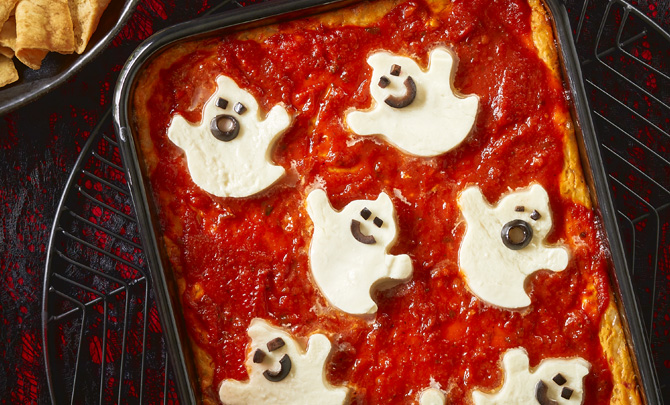 Recipe Description
Here comes Halloween! Get out the costumes and good eats with this pizza dip topped with the cutest Mozzarella ghosts cutouts you've ever seen. Boo!
Ingredients
1 package (8 ounces) cream cheese, softened
1 jar (12.5 ounces) pizza sauce, divided
1/2 cup sour cream
1 teaspoon Italian seasoning
1/2 teaspoon crushed red pepper flakes, optional
2 cups (8 ounces) Burnett Dairy Mozzarella Cheese, shredded
1 package (6 ounces) diced pepperoni
1 can (2.25 ounces) sliced ripe olives, drained
1 package (16 ounces) fresh Mozzarella cheese log
Pita chips
Preparation
Heat oven to 350°F.

Beat cream cheese in a large bowl until fluffy. Add the 1/2 cup pizza sauce, sour cream, Italian seasoning and red pepper flakes if desired; beat until mixture is combined. Stir in mozzarella and pepperoni. Set aside 10 olives; fold in remaining olives. Transfer to an ungreased 11 x 7-inch baking dish. Bake for 15 minutes.

Meanwhile, cut fresh mozzarella lengthwise into 1/4-inch slices. Cut slices with a 2 1/2-inch ghost cookie cutter. Cut reserved olives into eyes and mouths; place on ghosts. Remove dip from oven. (Pan will be hot!)

Carefully spread on remaining pizza sauce. Arrange ghosts on top. Bake for 2-5 minutes longer or until bubbly. Serve with pita chips.
Recipe and Photo © Dairy Farmers of Wisconsin