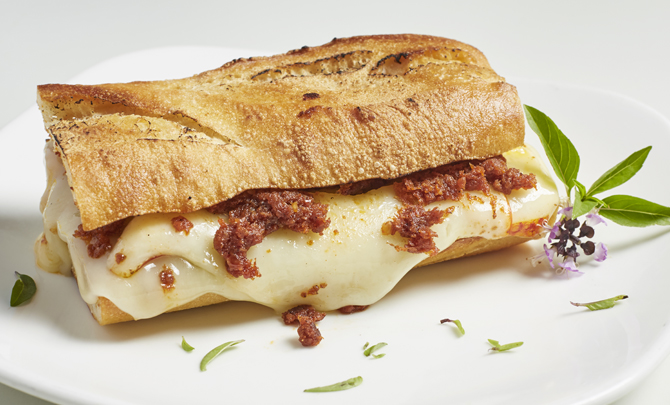 Recipe Description
Ordinary to extraordinary! High-quality Mozzarella and Muenster cheeses melt to a gooey-perfection grilled cheese sandwich! 
Preparation
Spread each bread slice with nduja. Layer two bread slices with mozzarella and muenster. Top with remaining bread slices nduja side down. Spread the outsides of sandwiches with butter.
Toast one sandwich, covered, in a large skillet over medium-low heat for 2-3 minutes or until the side is golden brown. Flip sandwich; cook, uncovered, 2-4 minutes longer or until bread is golden brown and cheeses are melted. Repeat with the remaining sandwich.
Recipe and photo © Dairy Farmers of Wisconsin
Recipe Tips:
Nduja is a cured and spicy, spreadable pork salumi from Italy. It's traditionally made with pork, spices and a balance of sweet and spicy chili peppers.
The sandwiches can be prepared without covering them during cooking; however, covering them will help the cheeses to melt.