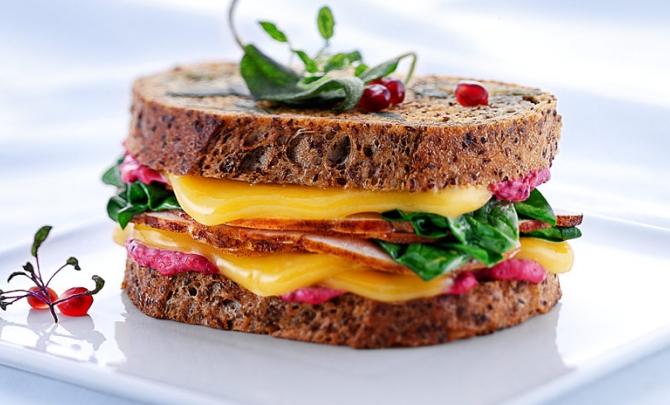 Recipe Description
Features Colby cheese and smoked turkey breast smothered in cranberry mustard and sage-butter.
Ingredients
3 tablespoons cranberry sauce
3 tablespoons Dijon mustard
6-8 tablespoons butter, at room temperature
4-5 fresh sage leaves, chopped
16 slices Burnett Dairy Colby Cheese
8 ounces turkey breast, sliced
8 ounces fresh spinach leaves
8 slices honey wheat bread
Preparation
In small bowl, mix cranberry sauce and Dijon mustard. Set aside. (Or use purchased cranberry-mustard.)
Mix butter with sage until smooth.
Heat large skillet or sauté pan over medium heat. Spread one side of each bread slice with sage-butter. Place 4 slices butter-side down in pan and spread each with 1 tablespoon cranberry-mustard. Top with 2 slices Colby, 2 ounces turkey, and 2 ounces spinach. Top with 2 more slices Colby and bread slice, butter-side up. Grill, turning sandwiches once until bread is golden and cheese is melted. Serve remaining cranberry-mustard on the side.
Recipe and Photo: © 2015 Wisconsin Milk Marketing Board, Inc.