Polenta with Provolone, Roasted Peppers and Mushrooms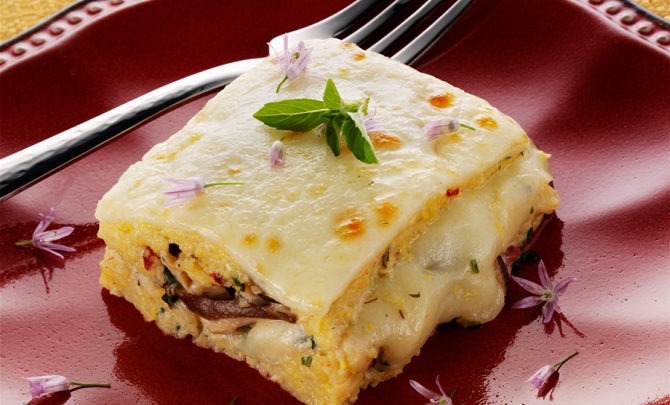 Recipe Description
Great recipe for Polenta with Provolone, Roasted Peppers and Mushrooms.
Ingredients
8 cups water
2 teaspoons salt
2 teaspoons black pepper
1 teaspoon dried rosemary
1 teaspoon dried thyme
2 cups polenta
1/4 cup roasted red peppers, well dried and diced
1/4 cup Wisconsin Parmesan Cheese, grated
2 tablespoons butter
1 teaspoon red pepper flakes
1 tablespoon butter
4 cups (8-10 ounces) sliced fresh mushrooms, e.g. mixture of portobello, cremini, shitake 
1 teaspoons garlic, minced
1 cup heavy cream
1/2 cup parsley, minced
Salt and pepper
10-12 thin slices (8 oz) Burnett Dairy Provolone Cheese
Preparation
Preheat oven to 375°F. 
For the polenta: In deep saucepan, bring water, salt, pepper, rosemary and thyme to rolling boil. Add polenta in slow, steady stream, stirring constantly. Reduce heat to medium and continue stirring 5 minutes. Add diced red pepper. Reduce heat to low and cover. Cook 45 minutes, stirring occasionally. Add Parmesan, 2 tablespoons butter and red pepper flakes. Stir well; set aside.
Mushrooms: Melt butter in skillet. Add mushrooms and garlic. Cook 10 minutes, stirring occasionally. Add heavy cream, parsley, salt and pepper. Cook at gentle boil until cream reduces and thickens, 10-15 minutes.
Butter 9 x 12 baking dish and spread half the polenta over bottom. Cover with half the slices of Provolone, tearing slices to fit when necessary. Spread mushrooms over. Spread remaining polenta over and top with remaining Provolone slices. Bake a bout 15 minutes or until cheese melts, browns slightly and casserole is hot. Let sit until the polenta sets and can be cut in servings (it will still be quite soft).
Recipe and Photo: © 2015 Wisconsin Milk Marketing Board, Inc.