Prosciutto Rosemary Pressed Baguette Sandwich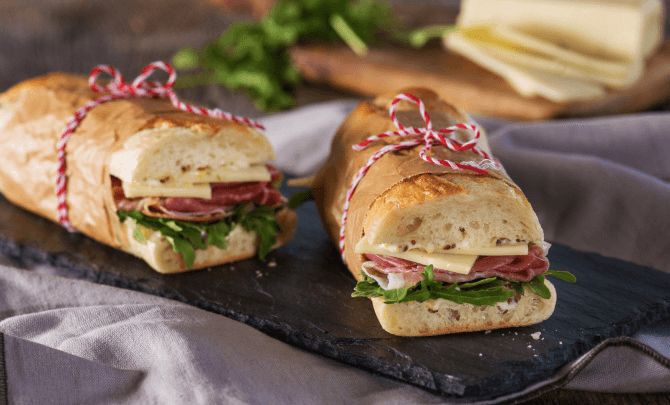 Recipe Description
The perfect picnic lunch, or grilled for a lunch indoors. Baguette filled with arugula, proscuitto and Herbes de Provence Wood River Creamery cheese.
Preparation
Scoop out some of the bread from bottom half of baguette. Spread mayonnaise and mustard on top half of baguette. Toss together arugula, olive oil, salt and pepper; arrange on bottom half of baguette. Top with prosciutto and cheese. Cap with top of baguette.
Cut into 4 pieces and wrap individually in waxed paper or parchment paper. Place plate with can or weight on top of sandwiches; refrigerate for 3 hours. (Or, for hot sandwiches, place in panini press and grill according to manufacturer's instructions or until toasted and warmed through.)
Tip: Save scooped-out bread for another use, such as bread crumbs.
Tip: Serve sandwiches with chips, fries or coleslaw. 
Tip: Try this recipe with many of our Wood River Creamery cheeses such as Rosemary, Roasted Red Pepper & Cracked Peppercorn, or Pesto!