Quinoa and Kale Stuffed Acorn Squash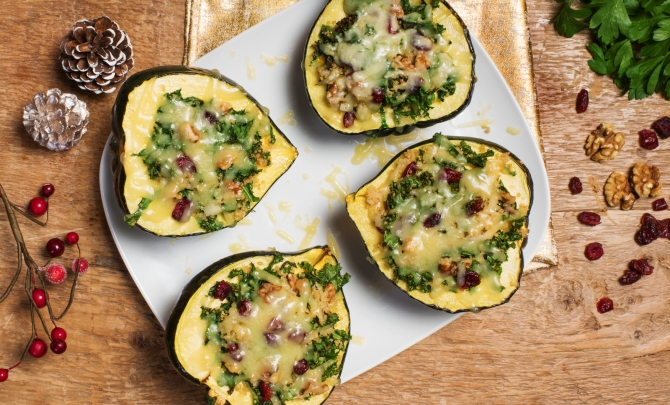 Recipe Description
When looking for an exciting, healthy and easy way to turn squash into dinner, try this stuffed acorn squash with quinoa and kale.
Ingredients
2 acorn squash (each 2 1/2 to 3 lb), halved and seeded
1/4 cup olive oil 
1 tsp each salt and freshly ground pepper 
1/2 tsp each ground allspice and cinnamon
1 onion, finely chopped 
3 cloves garlic, minced
2 tbsp chopped fresh sage
6 cups stemmed shredded kale
3 tbsp apple cider vinegar
2 tbsp maple syrup
2 tbsp grainy mustard
3 cups cooked quinoa
1/2 cup chopped walnuts, toasted 
1/4 cup dried cranberries
2 cups (8oz) Burnett Dairy Mozzarella Shredded Cheese
1/4 cup chopped fresh parsley 
Preparation
Preheat oven to 425°F. Line baking sheet with parchment paper. Brush cut sides of squash with 2 tbsp olive oil and season with half each salt and pepper, allspice and cinnamon. Place on prepared baking sheet; bake, cut sides down, for 40 to 45 minutes or until tender.
Meanwhile, in large skillet, heat remaining oil over medium heat; cook onion, garlic and sage, stirring, for 3 to 5 minutes or until onion is tender. Add kale; cook for 1 minute or until slightly wilted. Stir in vinegar, maple syrup and mustard; stir in quinoa, walnuts and cranberries. Remove from heat; toss with 1 cup cheese and remaining salt and pepper. 
Divide quinoa mixture evenly among squash halves; sprinkle with remaining cheese. Bake for 6 to 8 minutes or until filling is heated through and cheese melts. Sprinkle with parsley.
Tip: For meatier stuffed squash, add 1 cooked and crumbled Italian sausage to the stuffing or 1/3 cup cooked chopped pancetta.
Tip: For make-ahead, cook the squash and make the filling a day ahead of serving. When baking, allow extra time for the filling to heat through.