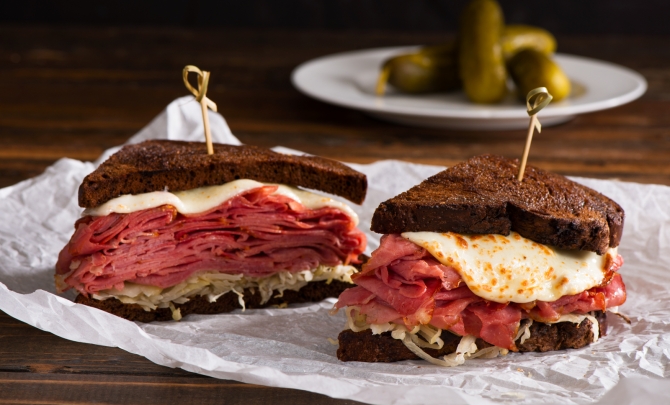 Recipe Description
We make our Grilled Reuben Melts smoky with our Smoked Provolone cheese. 
Ingredients
3/4 cups Thousand Island or Russian dressing
12 slices pumpernickel bread
3/4 lb Burnett Dairy Smoked Provolone Cheese, cut into 1/4-inch thick slices
1 1/2 lb sliced corned beef  
1 1/2 cups sauerkraut, drained
6 tbsp butter, softened 
Preparation
Spread 1 tbsp Thousand Island dressing on one side of two slices of bread. Top one slice of bread with 1 slice cheese. Top with 4 oz corned beef, 1/4 cup sauerkraut and another slice of cheese. Cap with remaining bread. 
Spread 2 tsp butter on outside of each slice of pumpernickel. On flattop grill or in pan, toast sandwich for 2 to 3 minutes per side or until cheese has melted and bread is crisp. Slice in half; serve immediately. 
Tip: Replace corned beef with pastrami or Montreal smoked meat.
Tip: Serve with pickles, fries or potato salad.