Sausage and Colby Cheese Omelet Roll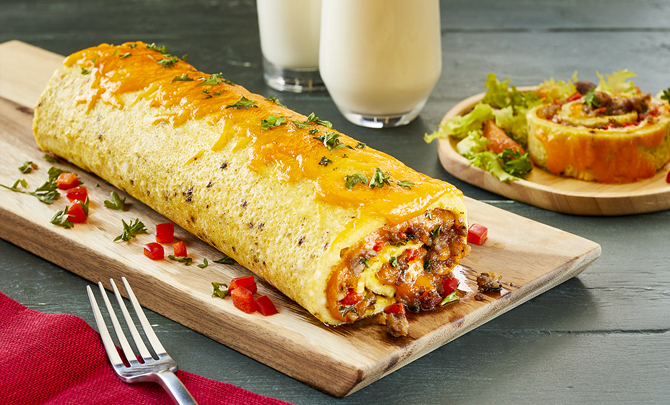 Recipe Description
Ace your breakfast with this easy, cheesy, beautiful omelet roll featuring our award-winning Colby cheese.  
Ingredients
12 large eggs
1/4 cup milk
1/2 teaspoon each salt and pepper
8 ounces bulk sage pork sausage
1 medium sweet red bell pepper, diced
1/2 cup chopped fresh parsley
10 ounces Burnett Dairy Colby Cheese, shredded and divided (2 1/2 cups)
Minced fresh parsley
Preparation
Heat oven to 375°F. Line a 15 x 10-inch baking pan with parchment paper. Coat with cooking spray.
Whisk the eggs, milk, salt and pepper in a large bowl. Pour into prepared pan. Bake for 23-27 minutes or until the omelet is set.
Meanwhile, cook sausage and red bell pepper in a large skillet over medium heat until meat is no longer pink; drain. Stir in parsley.
Sprinkle 2 cups Colby and sausage mixture over the omelet to within 1/2 inch of edges.
Roll up the omelet, jelly-roll style, starting with the long side. Lift and roll the omelet with parchment or thin spatulas, peeling the paper away while rolling. (Omelet and pan will be hot!) Sprinkle with the remaining Colby. Bake for 2-3 minutes longer or until cheese is melted. Garnish with parsley.
 
Recipe and photo © Dairy Farmers of Wisconsin