Sausage, Brussel Sprout and Truffle Pizza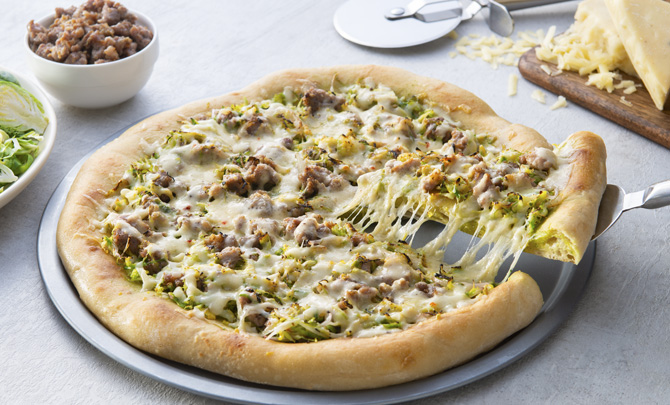 Recipe Description
Light, fresh and inspiring! Our Wood River Creamery Black Truffle Cheese compliments the flavor in this artisan pizza with a sizzle of Italian sausage and fresh rosemary.
Ingredients
Dough
1 3/4 cups all-purpose flour

 

(approx.)

 

3/4

 

cup warm water (approx. 105

°

F

 

to 115

°

F

)  

1 1/4 tsp

 

instant active dry yeast 

 

1

 

tsp granulated sugar 

 

1

 

tbsp olive oil (approx.)

1

 

tsp salt 

 
Toppings
1/4 cup olive oil, divided

4 tsp finely chopped fresh rosemary

2 cloves garlic, minced

2 Italian sausages, removed from casing

8 oz shredded Brussels sprouts

3 shallots, thinly sliced

1/4 tsp each salt and pepper

1 1/4 cups (5 oz) Wood River Creamery Black Truffle Cheddar Gruyere, shredded

1 tbsp truffle oil
Preparation
Dough
In a bowl, stir together 1/4 cup flour, warm water, yeast, and sugar; let stand for 5 to 10 minutes or until mixture starts to look bubbly and frothy. Using a wooden spoon, stir in olive oil, remaining flour, and salt to make a loose dough. Transfer to lightly floured surface; knead for 10 to 15 minutes, adding flour as needed, to make a soft, elastic, and slightly sticky dough. 
Form dough into ball; transfer to a lightly greased bowl. Brush the top of the dough lightly with oil; cover with a wet kitchen towel. Let stand in a warm spot for about 2 hours or until doubled in size. Punch down dough; transfer to an airtight container or resealable plastic bag. Refrigerate overnight; let stand at room temperature for 2 hours.  
Toppings
Preheat oven to 500˚F. Stir together 2 tbsp of the oil, rosemary, and garlic; set aside.
Heat 1 tbsp of the olive oil in a large skillet set over medium heat; cook sausage for 8 to 10 minutes or until lightly browned and cooked through. Transfer to plate and let cool completely.
Add remaining oil to skillet; cook Brussels sprouts, shallots, salt, and pepper. Cook for 5 to 8 minutes or until golden and tender; let cool completely.
On a lightly floured surface, roll out pizza dough into an 8-inch round. Using hands, stretch the dough into a 12-inch round, about 1/4-inch thick. Transfer to lightly greased 12-inch pizza pan.  
Brush pizza dough with rosemary mixture. Scatter Brussels sprouts mixture and cooked sausage over top; sprinkle with cheese.
Bake until crust is golden brown and cheese is bubbling,15 to 20 minutes; drizzle with truffle oil.
Tips: 
• Substitute 1 lb store-bought pizza dough for homemade dough. 
• Substitute thyme for rosemary, if desired.