Sausage & Pepper Quesadilla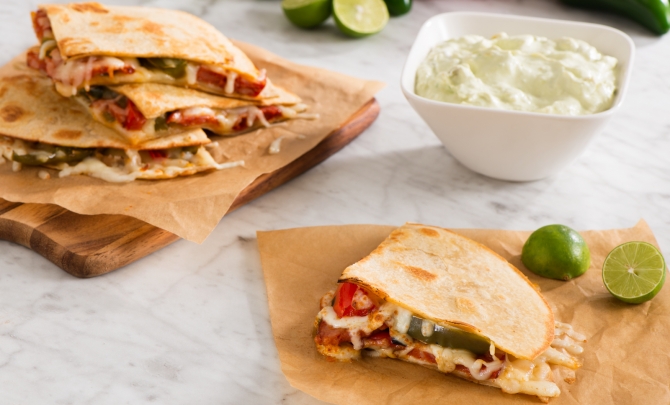 Recipe Description
Add some delicious smoked flavor to your traditional quesadilla, and then dip in a yummy avocado lime cream sauce.
Ingredients
Quesadillas:
1/4 cup vegetable oil 
2 onions, sliced 
1 each red, yellow and green peppers, sliced 
1/2 tsp each salt and pepper 
3/4 lb smoked sausages, sliced  
12 large flour tortillas 
3 cups (12 oz) Burnett Dairy 3 Cheese Blend Shred
Avocado Lime Cream:
2 ripe avocados, pitted and peeled
1/2 cup sour cream
1 tsp finely grated lime zest  
1/8 cup fresh lime juice
1/4 tsp each salt and pepper
Preparation
Quesadillas: Heat oil on flattop grill set to medium heat; cook onions and peppers for 8 to 10 minutes or until golden and tender. Season with salt and pepper. Cook sausages for 4 to 6 minutes or until heated through and golden brown. Set aside until ready to assemble.
Avocado Lime Cream: Mash avocados until smooth. Stir in sour cream, lime zest, lime juice, salt and pepper. Keep refrigerated until service. 
Assembly: Place approximately 1/6 of onion and pepper mixture on top of one tortilla. Top with sliced sausages and 1/2 cup shredded cheese. Top with another tortilla. 
Toast tortillas, in pan or on flattop grill, for about 2 minutes per side or until golden brown and cheese is melted. Cut into wedges. Serve with Avocado Lime Cream. 
Tips: 
•    Serve with tomato salsa if desired.
•    Add jalapeno peppers to sweet peppers for added heat.