Savory Cheddar & Crab Stuffed Chicken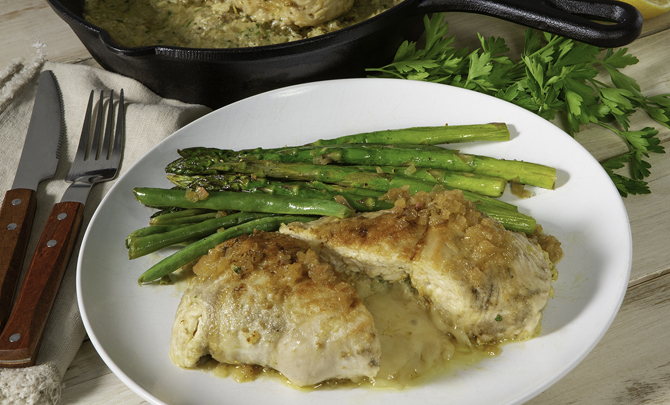 Recipe Description
Fit for any occasion, this easy and elegant stuffed chicken is full of flavor. Serve with spring vegetables for a crowd-pleasing feast.
 
Ingredients
1 1/4 cups Wood River Creamery Original Cheddar Gruyere, shredded
1 can (6 oz) lump crabmeat, drained well
2 tbsp finely chopped fresh parsley
1 tbsp finely chopped each fresh chives and thyme
2 cloves garlic, minced
2 tsp lemon zest, divided
1 tsp grainy mustard
1 tsp Worcestershire sauce
3/4 tsp salt and pepper, divided
Pinch cayenne pepper
6 boneless skinless chicken breasts (8 oz each)
1/3 cup all-purpose flour
3 tbsp olive oil, divided
2 tbsp butter
1 shallot, minced
1/2 cup dry white wine
1 cup reduced-sodium chicken broth
1 lb asparagus, trimmed
1/2 lb green beans, trimmed
1 cup snap peas
1 tbsp lemon juice
Preparation
Preheat oven to 400˚F. Stir together cheese, crabmeat, parsley, chives, thyme, garlic, 1 tsp lemon zest, mustard, Worcestershire sauce, 1/4 tsp each salt and pepper, and cayenne; set aside.
On the work surface, place each chicken breast (one at a time), between 2 sheets of plastic wrap. With meat mallet or rolling pin, evenly pound chicken to 1/3-inch thickness.
Divide crabmeat mixture among chicken breasts; roll up to enclose filling and secure with toothpicks. In a shallow plate, stir together flour and 1/4 tsp each salt and pepper; dredge stuffed chicken, shaking off excess.
Heat 1 tbsp oil, and butter in a large ovenproof skillet set over medium heat; cook stuffed chicken for 6 to 8 minutes or until golden brown all over. Transfer to oven; cook for 12 to 15 minutes or until chicken is cooked through and internal temperature reaches 165°F on an instant-read thermometer. Remove from skillet; let stand for 10 minutes. Remove toothpicks.
Set skillet over medium heat; cook shallot for 2 to 3 minutes or until slightly softened. Stir in white wine, scraping up brown bits from the bottom of pan; bring to boil. Cook for about 5 minutes or until reduced by half. Stir in broth and bring to boil; cook for about 10 minutes or until sauce is slightly thickened.
Meanwhile, toss together asparagus, green beans, snap peas, and remaining oil, salt, and pepper. Arrange evenly on a large parchment paper-lined baking sheet; bake for about 10 minutes or until tender. Toss with remaining lemon zest and lemon juice. Serve with stuffed chicken and pan sauce.
Tip: Substitute vermouth or sherry for white wine if desired.