Seared NY Strip Steak with Smoked Cracked Peppercorn Cheese Sauce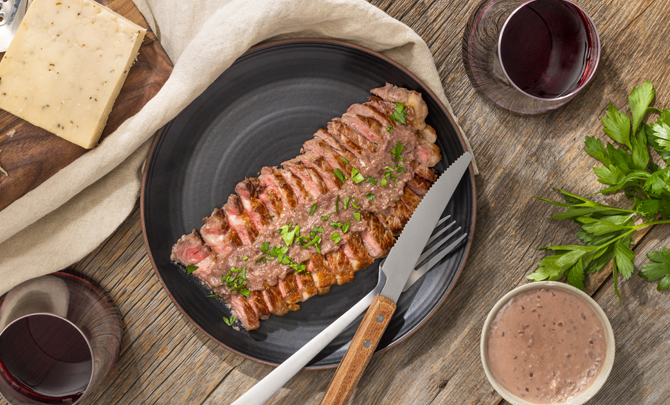 Recipe Description
Perfectly seared New York strip steak is paired with a rich pan sauce for a delicious meal featuring Wood River Creamery Smoked Cracked Peppercorn cheese.
Preparation
Season steaks with salt and pepper. Heat oil in a large cast-iron skillet set over medium-high heat; cook steaks for 2 to 3 minutes per side or until browned and evenly seared. Transfer to plate; tent with foil and let stand for 10 minutes.
Meanwhile, in the same skillet set over medium-low heat, add butter, swirling until melted. Add shallots; cook for 3 to 5 minutes or until tender and fragrant. Add wine, stirring to scrape up any brown bits; simmer for 3 to 5 minutes or until slightly reduced.
Add beef stock; cook for 8 to 10 minutes or until thickened and reduced by half. Remove from heat; stir in cheese until melted and smooth.
Slice steak diagonally across the grain. Spoon cheese sauce over top. Garnish with parsley.
Tip: To ensure even cooking, let steaks stand at room temperature for 20 minutes before cooking.