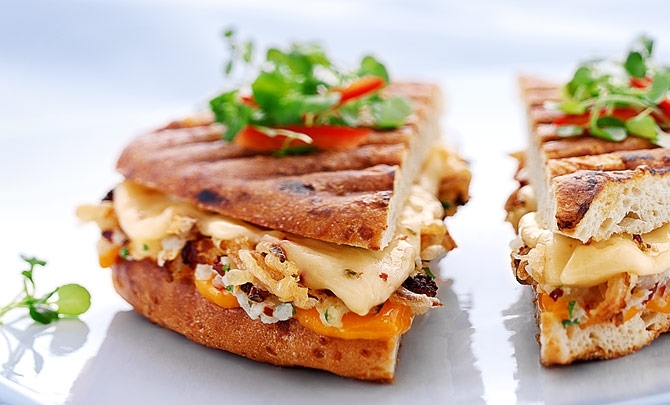 Recipe Description
Sweet apple, smoked bacon and gooey cheese all smashed together between two slices of hearty bread. What more could you want?
Ingredients
2 tablespoons butter
1 head cauliflower, cut in small pieces
Salt and pepper
1/2 cup flour
1/2 cup rice flour
2 tablespoons cornstarch
1 cup cold seltzer water (club soda)
Vegetable oil for frying
2 yellow onions, thinly sliced
8 slices sourdough bread
4 tablespoons extra virgin olive oil
4 slices Pepper Jack cheese
4 slices Cheddar cheese
Preparation
Heat large sauté pan over high heat. Add butter and cauliflower; sauté on high until brown, stirring so cauliflower doesn't burn. Season with salt and pepper; remove to plate lined with paper towels; drain.
For batter: Whisk together flours, cornstarch, and a pinch of salt and pepper. Whisk in cold seltzer water until smooth. (Water MUST be cold for tempura-type batter.) Store batter in the refrigerator until ready to fry.
Heat 3-4 inches vegetable oil to 350ºF in fryer or deep pan. Dip onion slices into the batter to cover and fry until golden brown. Drain on paper-towel-lined plates and season with salt and pepper.
Heat grill over medium. Drizzle one side of each slice of bread with a 1/2 tablespoon olive oil; place 4 slices, oil-side down, on grill (or use panini press). Top each slice with Pepper Jack, cauliflower, fried onions, and a slice of Cheddar, in that order. Place remaining 4 bread slices on top of sandwiches, oil-side up. Grill, turning once, until the bread is golden and the cheese is melted.
Recipe and Photo: © 2015 Wisconsin Milk Marketing Board, Inc.