Slow-Cooker Cheddar and Chive Mashed Potatoes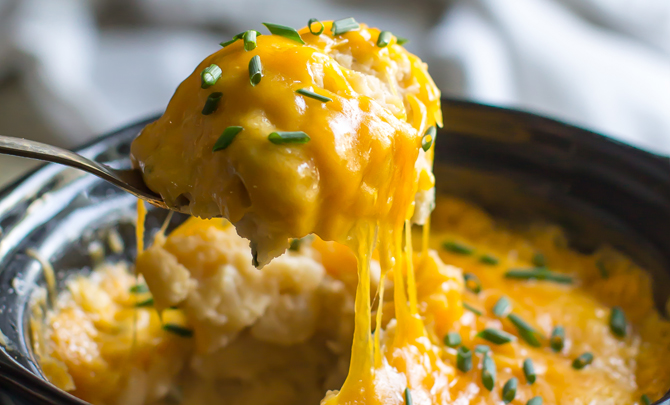 Recipe Description
"What can I bring?" Offer to share these potluck cheddar potatoes; they not only taste amazing but travel well, too!
Ingredients
3 pounds Yukon Gold potatoes, peeled and cut into 1-inch cubes
1 cup water
4 ounces Wisconsin cream cheese, cut into small cubes
4 tablespoons butter, cut into small cubes
2 cups (8 oz) Burnett Dairy Sharp Cheddar Cheese, shredded & divided
1/4 cup half-and-half cream, warmed
2 tablespoons minced fresh chives
1 1/2 teaspoons salt
1/2 teaspoon coarsely ground pepper
Preparation
Place potatoes in a 3-quart slow cooker. Pour in water. Dot with cream cheese and butter. Cover and cook on high for 4-5 hours or on low for 8-9 hours until potatoes are tender.
Transfer all ingredients from slow cooker to a large bowl; mash potato mixture until smooth. Stir in 1 cup cheddar, cream, chives, salt, and pepper. Return potatoes to a lightly greased slow cooker.
Sprinkle with remaining cheddar. Cover and cook on high until cheese is melted, about 10-15 minutes. Serve immediately, or use a warm setting to keep potatoes warm for up to 4 hours.

Recipe and photo © Dairy Farmers of Wisconsin
Recipe Tip
If traveling with this dish, sprinkle with the remaining cheddar before transporting. Upon arrival, finish cooking the potatoes for 10-15 minutes until the cheese is melted.