Spring Applewood Smoked Cheesy Potato Cakes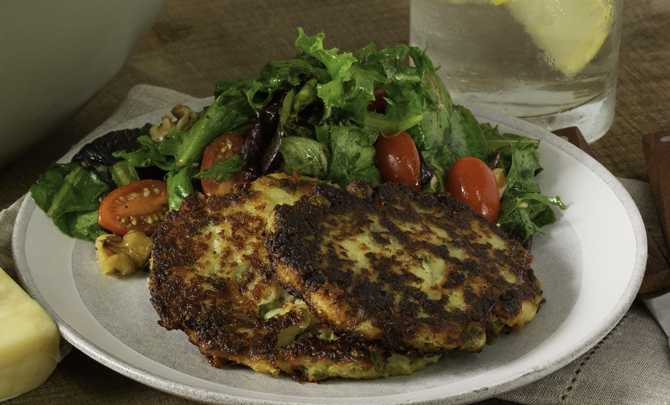 Recipe Description
The best way to use up leftover mashed potatoes for breakfast or a side dish! Easy, cheesy, potato cakes in under 30 minutes.
Ingredients
1 lb Yukon Gold potatoes
1/2 cup all-purpose flour
1 egg, beaten
1 tbsp Dijon mustard
1/2 tsp each salt and pepper, divided
1/2 cup (2 oz) Wood River Creamery Applewood Smoked Sea Salt Cheddar Gruyere, shredded
1/2 cup fresh spring peas, cooked
2 green onions, finely chopped
2 tbsp finely chopped fresh parsley
Canola oil
6 cups mixed greens
3 tbsp olive oil
4 tsp white wine vinegar
1 cup halved grape tomatoes
1/4 cup toasted chopped walnuts
Preparation
DIRECTIONS: Peel potatoes and chop into 1/2 inch pieces. In a large pot of boiling salted water, cook potatoes for about 15 minutes or until tender. Drain well; return to saucepan and mash until smooth. Let cool to room temperature. Stir in flour, egg, mustard, and half of the salt and pepper. Fold in cheese, peas, green onions, and parsley.
Meanwhile, pour enough oil into a large skillet to come 1/2 inch up side; heat over medium heat. Working in batches, scoop 1/4 cup of batter into skillet for each potato cake; fry for 2 to 3 minutes per side or until golden brown. Transfer to a paper towel-lined tray.
Meanwhile, toss together greens, oil, vinegar, and remaining salt and pepper. Add tomatoes and walnuts. Serve with potato cakes.
Tip: Serve potato cakes with a dollop of sour cream if desired.