Spring Pea Risotto with Rosemary Gouda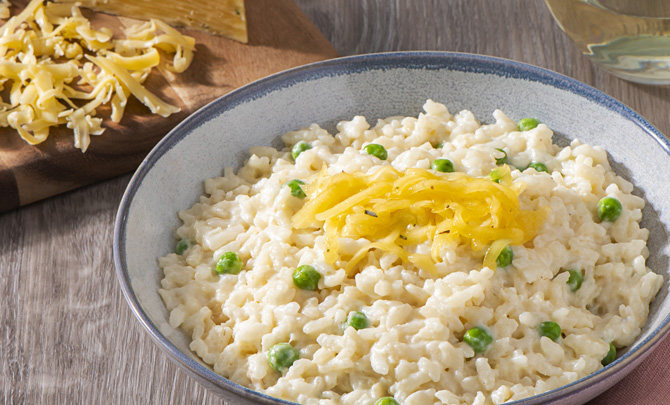 Recipe Description
Cady Creek Farms Rosemary Gouda lends itself well to this classic dish with rich, buttery Gouda cheese and aromatic rosemary.
 
Ingredients
5 tbsp butter, divided

1 large shallot, minced

2 cups Arborio rice

1/4 cup dry white wine

6 1/4 cups chicken broth, hot

1/2 cup sweet peas, cooked

2 tsp lemon zest

4 oz (1 cup)  Cady Creek Farms Rosemary Gouda, shredded & divided

Salt and pepper
Preparation
In a large, heavy-bottom saucepan, cook 2 tbsp butter and shallot over medium heat for 2 to 3 minutes or until slightly softened.
Stir in rice; cook, stirring for 2 minutes. Add wine; cook for 1 to 2 minutes or until slightly reduced.
Add hot chicken broth, 1/2 cup at a time, stirring until liquid is absorbed before adding the next addition; cook for about 20 minutes or until rice is tender but still slightly firm in the center.
Stir in sweet peas, lemon zest, remaining butter, and 1/2 cup Cady Creek Farms Rosemary Gouda. Season with salt and pepper.
Sprinkle remaining cheese over the top. Serve immediately.