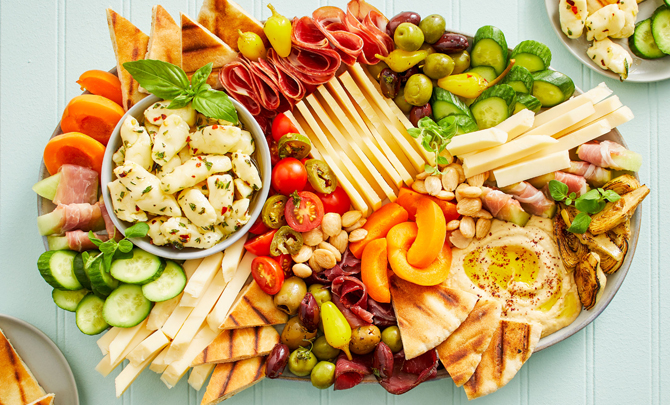 Recipe Description
Celebrate with bright flavors and marinated cheese curds! A perfect summer board.
Ingredients
Marinated Cheese Curds:
6 fresh thyme sprigs
1/2 cup olive oil
3 garlic cloves, minced
1 teaspoon fresh oregano leaves
1/2 teaspoon salt
1/2 teaspoon crushed red pepper flakes
1/2 pound Burnett Dairy/Cady Cheese Cheese Curds
Cheese Platter:
Small honeydew melon, seeded and peeled
Thinly sliced prosciutto
Hummus
Olive oil
Smoked paprika
Grilled pita bread, cut into wedges
Fresh apricots, halved, pitted and sliced
English cucumber slices
Cherry tomatoes, halved
Thinly sliced bresaola sausage or prosciutto
Thinly sliced salami
Marinated quartered artichoke hearts
Pitted green and Kalamata olives
Pickled jalapeno pepper slices
Pickled pepperoncini peppers
Whole almonds
Fresh basil and oregano leaves
Preparation
Marinated Cheese Curds:
Combine the first six ingredients in a large jar or bowl. Add cheese curds. Cover and refrigerate for at least 4 hours.
Cheese Board:
Cut honeydew into slices; wrap slices with prosciutto.
Arrange the parmesan, provolone and cheese curds on a serving platter. Add hummus. Drizzle with olive oil; sprinkle with smoked paprika. Fill in platter with pita bread, apricots, prepared honeydew, cucumber, tomatoes, charcuterie, artichokes, olives, pickled peppers and almonds. Garnish with basil and oregano.
Recipe and photo © Dairy Farmers of Wisconsin