Three-Cheese Football Pizza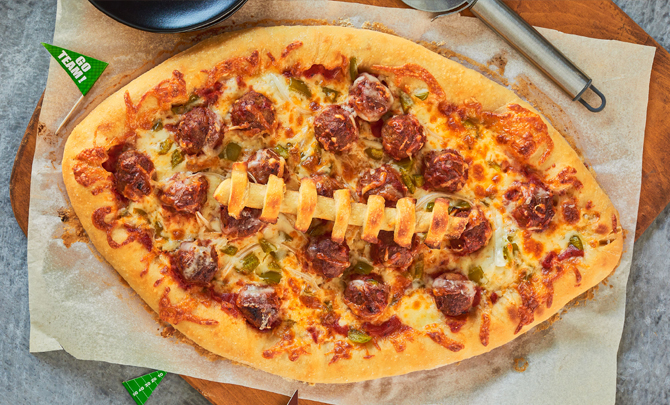 Recipe Description
Hut! Hut! Who's Hungry! Here's a perfect addition to game-day spreads! 
Ingredients
1 1/2 cups pizza sauce
12 frozen fully cooked meatballs, thawed (1/2-ounce each)
1 pound (16 ounces) fresh or frozen pizza dough, thawed
10 pieces Burnett Dairy String Cheese
2 tablespoons butter, cubed and melted
1/2 teaspoon garlic powder
1 cup (4 oz) Burnett Dairy Mozzarella cheese, shredded
1/2 cup (2 oz) Asiago or Parmesan cheese, shredded (1/2 cup)
1/4 cup chopped green pepper
1/4 cup chopped onion
Preparation
Heat oven to 450°F.
Warm pizza sauce and meatballs in a large saucepan over medium heat for 12-15 minutes or until meatballs are heated through, stirring occasionally.
Meanwhile, roll out and stretch pizza dough on a lightly floured cutting board to a 17 x 12-inch rectangle. Cut short sides of dough to angle inward, creating a football shape. Cut dough scraps into thin strips for football laces; set aside.
Transfer pizza dough to a greased 15 x 10-inch baking pan; let excess dough hang over edges of pan. Place string cheese to within 1 inch of edges. Fold dough over cheese; press to seal.
Whisk butter and garlic powder in a small bowl; brush over dough and football laces.
Spoon pizza sauce and meatballs over dough. Sprinkle with mozzarella and asiago. Top with green pepper and onion. Arrange reserved football laces on pizza.
Bake for 15-17 minutes or until crust is golden brown and cheese is bubbly. Cool slightly before serving.

Recipe and photo © Dairy Farmers of Wisconsin