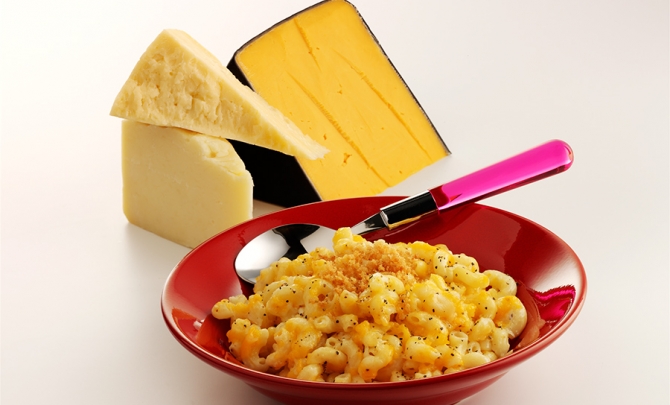 Recipe Description
Great recipe for macaroni and cheese with Aged Cheddar and Asiago cheeses.
Ingredients
1 pound elbow macaroni
Butter
Kosher salt
Black pepper, freshly ground
2 cups (8 ounces) Burnett Dairy's Aged Cheddar cheese, shredded
2 cups (8 ounces) Wisconsin Asiago cheese, shredded
1 1/2 cups milk
1 1/2 cups heavy cream
Preparation
Preheat oven to 375°F. Bring a large pot of water to a rolling boil. Add macaroni; bring back to boil and cook 5 minutes. Drain, rinsing with cold water.
Butter an 8 x 11-inch baking dish. Spread 1/3 of the macaroni over the bottom. Season with salt and pepper. Combine cheeses in a bowl and sprinkle 1/3 of the cheeses over the macaroni. Continue with 2 additional layers of macaroni and cheeses. Combine milk and cream and slowly pour over macaroni. Cover tightly with foil and bake 45 minutes. Remove foil and continue baking until top browns a bit, 5 to 7 minutes. Remove from oven and let rest 15 minutes. Serve hot.
Recipe and Photo: © 2015 Wisconsin Milk Marketing Board, Inc.