10-Minute Nacho Cheese Dip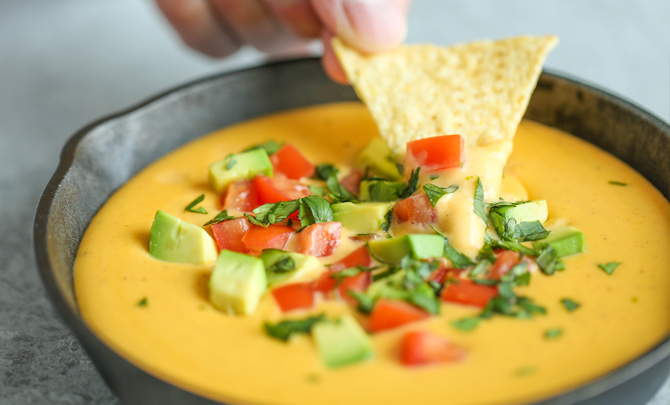 Recipe Description
"Lord have mercy on my diet, because this was some of the best dip I've ever had the pleasure of gracing my mouth with." - SaraCat
Ingredients
2 tablespoons butter, cubed
2 tablespoons all-purpose flour
1/2 cup half-and-half cream
1/2 cup milk
1/4 teaspoon garlic powder
1/4 teaspoon onion powder 
1/4 teaspoon paprika
2 cups (8 oz) Burnett Dairy Sharp Cheddar Cheese, shredded
1 cup (4 oz) Burnett Dairy Colby Cheese, shredded
1 can (4 ounces) diced green chiles, undrained
Salt and pepper to taste
Additional milk
Tortilla chips
Preparation
Melt butter in a large saucepan over medium-low heat. Whisk in flour until smooth. Gradually whisk in the cream, milk, garlic powder, onion powder and paprika. Bring to a boil; cook and whisk for 2 minutes or until thickened.
Reduce heat to low; gradually whisk in Cheddar and Colby until melted.
Remove from the heat. Stir in green chiles. Season with salt and pepper to taste. Add milk, 1 tablespoon at a time, until desired consistency. Serve with tortilla chips.
Recipe and photo © Dairy Farmers of Wisconsin