American Original Taco Dip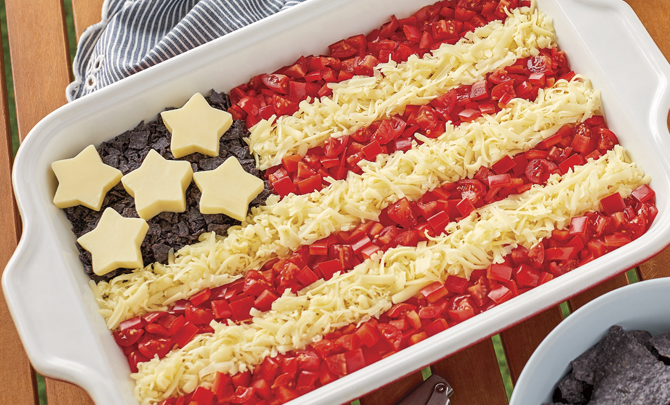 Recipe Description
Honor our Heroes with this Memorable and Festive dip for Memorial Day!
Preparation
Beat the cream cheese, salsa, sour cream, Cheddar and green onions in a large bowl until blended. Spread cheddar mixture in the bottom of a 13 x 9-inch baking dish.
Measure 1 cup crushed tortilla chips; set aside the remaining chips for serving. Arrange the crushed tortilla chips in a rectangle on top of the cheddar mixture, about 5 x 4-inches.
Cut 1 block (8 ounces) of Original Cheddar Gruyere in half into two blocks, each about 1/2-inch thick. Cut slices with a 1 1/2-inch star cookie cutter, using the handle of a small spoon to press and release cheese from cutter at star points. Place stars on chips. Shred 2 cups (8 ounces) from the remaining Original Cheddar Gruyere.
Combine tomatoes and red bell pepper in a medium bowl. For stripes, arrange tomato mixture and shredded Cheddar Gruyere in alternating rows, each about 1-inch.
Cover and refrigerate for at least 1 hour or until serving. Serve with the reserved tortilla chips.
Recipe and photo © Dairy Farmers of Wisconsin