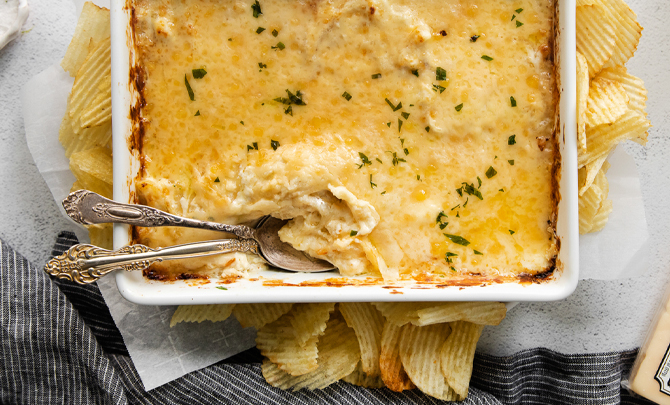 Recipe Description
THE BEST FRENCH ONION DIP you'll ever have! We know – bold statement – but it's just so unbelievably good!
Ingredients
2 lbs sweet yellow onions, thinly sliced (we used a mandolin to slice super thin)
2 tablespoons olive oil 
2 teaspoons garlic powder
1 teaspoon salt
2 8oz blocks cream cheese 
8 oz Wood River Creamery Original Cheddar Gruyere, shredded and divided
Preparation
**Recipe creation and photo: The Cheese Knees.
Preheat the oven to 350ºF and spray a small casserole dish (10×5 or 8×8) with olive oil. 
Add the onions into the casserole dish and drizzle with olive oil. Then, season with garlic powder and salt. Toss the onions until they're evenly coated.
Bake onions at 350ºF for 15 minutes. After 15 minutes, toss the onions. Continue baking for 15-30 more minutes (depending on how thin you sliced your onions) or until the onions are caramelized and translucent.
Next, carefully create a well in the center of the casserole dish and move the onions aside (they will be hot!), making room for the cream cheese. Place the two blocks of cream cheese into the casserole dish and sprinkle ½ cup of the shredded cheese on top of the onions. Return the casserole dish to the oven and bake for an additional 10 minutes. 
Remove the casserole dish from the oven and carefully stir the melted cheeses and onions together until combined. Then, spread out the mixture so that it's evenly covering the casserole dish. Sprinkle on the remaining shredded cheese on top.
Turn the oven to broil and place the casserole dish back into the oven for 1-3 minutes or until the cheese is melted and slightly golden brown. Make sure to watch the cheese so it doesn't burn!
Remove from the oven and let it stand for 10 minutes. 
Serve with crostini, chips, or crackers. 

**Recipe creation and photo: The Cheese Knees
**Read more about this recipe here.