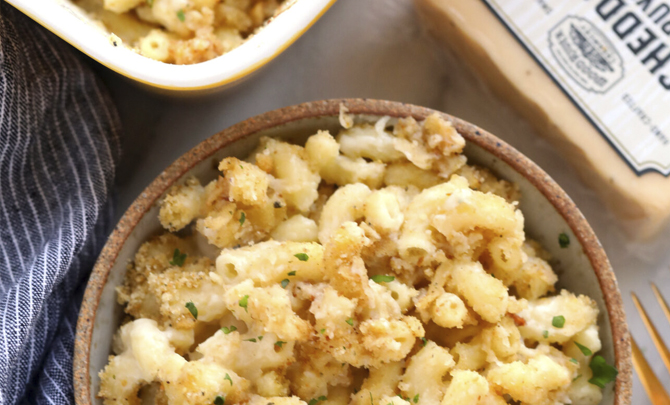 Recipe Description
This cheesy goodness is creamy and flavorful with a delicious breadcrumb topping.
Ingredients
1 lb. macaroni noodles
1/2 teaspoon sea salt
4 tablespoons butter
1/3 cup all-purpose flour
3 cups 2 % milk
3 cups (12 oz) Wood River Creamery Herbs de Provence Cheddar Gruyere, shredded
1/2 teaspoon salt
1/4 teaspoon granulated garlic (or garlic powder)
1–2 tablespoons buffalo hot sauce (we used Franks)
Breadcrumb Topping
Preparation
Preheat the oven to 350ºF and spray a large casserole dish with nonstick cooking spray. Set aside.
Next, bring a large pot of water to a boil and add the uncooked macaroni noodles and salt to the water and stir.
Let pasta cook until it's just under al dente so that they are a little crunchy. They will continue cooking in the oven. Strain noodles and set aside.
Next, prepare a roux by heating a large pot or dutch oven over medium/high heat. Add butter.
When the butter is melted add flour and whisk until the butter and flour form a crumble.
Slowly add milk to the pot, whisking constantly. Continue to whisk the roux over medium/high heat for about 4-6 minutes or until the roux thickens.
When the roux is thick, remove from heat and add the cheddar gruyere cheese. Whisk until the cheese has melted.
Transfer the cooked macaroni noodles to the casserole dish and spread them out evenly. Then, pour the cheese sauce on top, add hot sauce, and mix to combine.
Next, prepare breadcrumb topping by mixing together shredded cheese and breadcrumbs. Then, add in melted butter and mix again.
Sprinkle breadcrumbs on top of mac and cheese in the casserole dish, making sure everything is covered.
Bake at 350ºF for around 20 minutes or until the top turns golden brown.
Top with fresh parsley and enjoy!
**Recipe creation and photo: The Cheese Knees
**Read more about the recipe here.