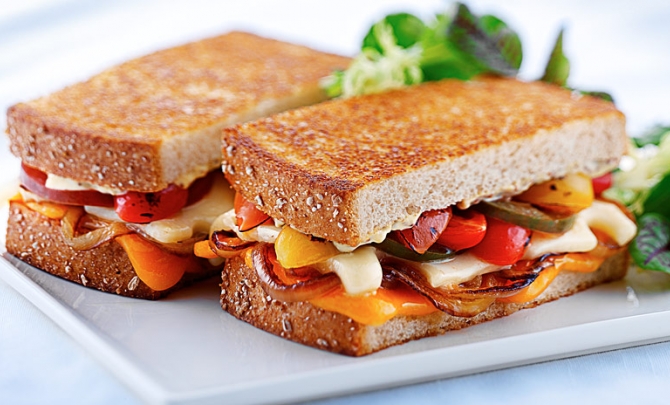 Recipe Description
A delightful ensemble of Aged Cheddar, Baby Swiss, and caramelized onions on whole-grain bread.
Ingredients
1 tablespoon extra virgin olive oil
5 tablespoons butter, at room temperature, divided
1 Vidalia or other sweet onion, thinly sliced
Kosher salt and ground black pepper
1 tablespoon water
2 large beefsteak tomatoes or 16 cherry tomatoes
8 slices whole-grain bread
4 slices Burnett Dairy Aged Cheddar Cheese
4 slices Burnett Dairy Baby Swiss Cheese
Preparation
For caramelized onions: Heat large sauté pan over high heat, add olive oil and 1 tablespoon butter and then sliced onions. Stir to coat; cook without stirring for 2 minutes. Add pinch of salt and pepper, lower heat to medium and continue to cook for 5-8 minutes. Add water and stir to remove any brown bits from the bottom of pan. Transfer onions to a bowl. (Can be prepared to this point and refrigerated for up to 6 days.)
Slice tomatoes 1/4-inch thick or halve cherry tomatoes and season with salt and pepper.
Heat skillet or large sauté pan over medium heat. Butter one side of each slice of bread. Place one slice butter-side down in pan and top with a slice of Cheddar, then a slice of tomato and some of the reserved caramelized onions, then a slice of Baby Swiss. Top with another slice of bread, butter-side up, and grill in skillet until bottom bread is lightly browned and cheese begins to melt; carefully flip the sandwich over and brown. Grill the remaining 3 sandwiches.
Recipe and Photo: © 2015 Wisconsin Milk Marketing Board, Inc.