The Lovers Charcuterie Board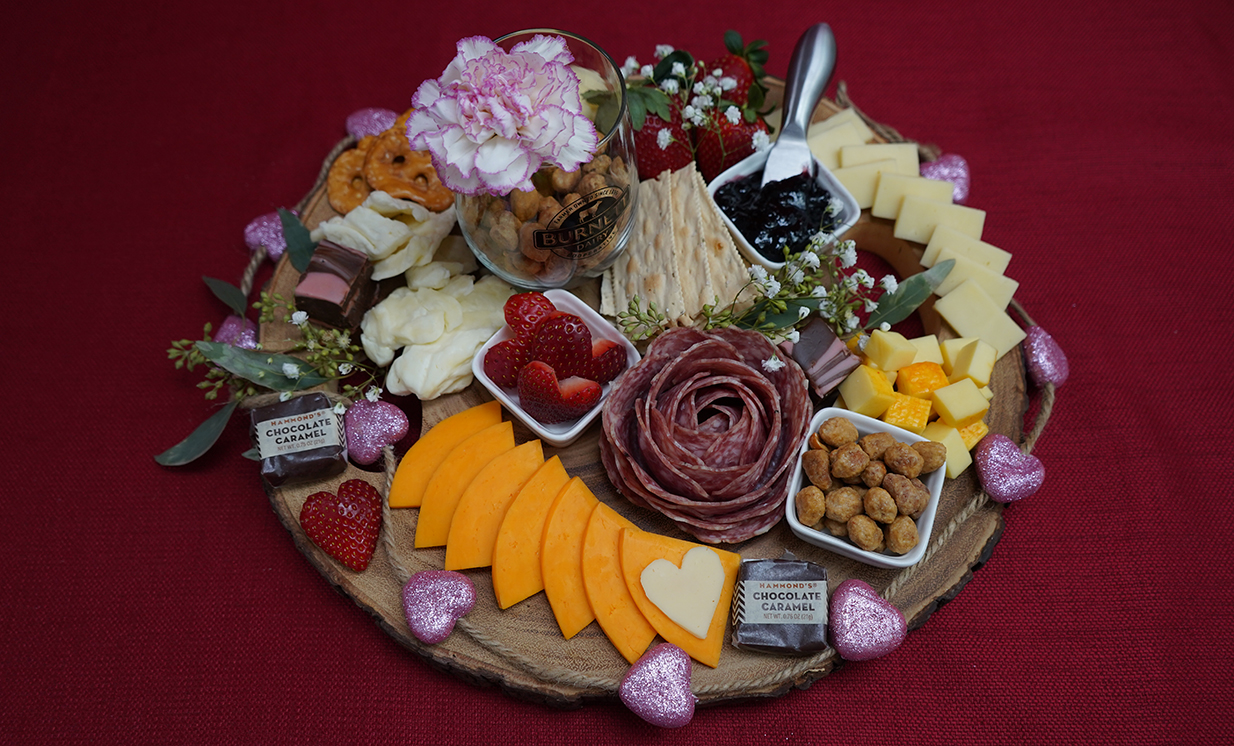 Recipe Description
Cheese is our love language! Make this love-themed charcuterie board for Valentine's Day with your lover!
Ingredients
Cheese
Meat
Produce
Crunch
Artisan crackers
Pretzel Crisps
Toffee Peanuts
Dip
Chocolate
Amaretto Fudge
Chocolate Fudge
Chocolate Caramels
Garnish
Fresh Flowers
Seeded Eucalyptus
Babies Breath
Preparation
HOW TO MAKE A CHARCUTERIE BOARD
Select your serving tray or board.

Add cheese. Cut cheeses and place across multiple sections of your board, leaving room to fill in between cheeses with other board items.

Add meat. Make salami roses (here is a tutorial), or fold slices neatly, and place in multiple sections of the board.

Add bowls for jam / small items. 

Add crackers. Stack crackers in various sections of the board. 

Add chocolates. Distribute throughout the board.

Fill in the spaces.  The goal is to completely cover your board!
 
CHARCUTERIE BOARD ACCESSORIES
While you can create a lovely cheese platter without special trays, boards, or other accessories, having a few of these items can elevate your cheese board experience. Below is a list of simple charcuterie board items to add to your entertaining line-up:
Wooden charcuterie board - these come in a variety of shapes and sizes, select a board that you find beautiful! 

Cheese knives - great for spreading dips and jam.

Small bowls - for serving spreads and dips, nuts, pickles, and more!
EXPERT TIPS
Cut some cheese and strawberries into hearts for added love appeal!
DRINK PAIRINGS FOR THIS BOARD
Pair this cheese board with your favorite bubbly beverage - champagne, sparkling wine, or your favorite non-alcoholic sparkling drink.