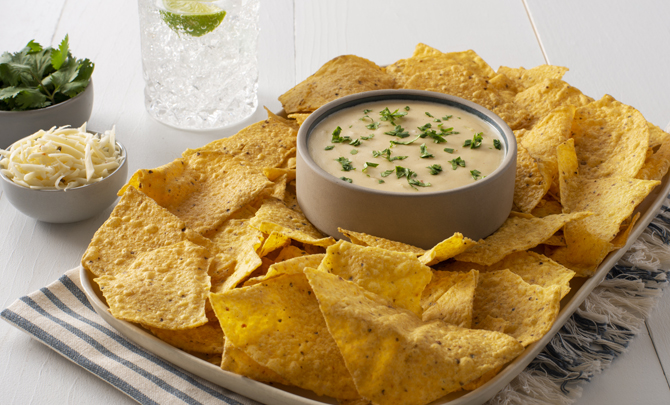 Recipe Description
Get those chips ready because this Queso dip is easy, creamy and bursting with flavor.
Ingredients
One 7 oz package of Cady Creek Farms Pepper Jack cheese, shredded

1 tablespoon cornstarch

2 tablespoons unsalted butter

1/2 cup onion diced

1/4 teaspoon black pepper

1/4 teaspoon ground cumin

1/4 teaspoon kosher salt, or more to taste

2 cloves garlic, minced

One 12-ounce can evaporated milk

Chopped cilantro, for serving

Tortilla chips, for serving
Preparation
Toss the shredded cheese with the cornstarch; set aside.
Place the butter in a medium saucepan over medium heat; add the onion, pepper, cumin, and salt, and cook, stirring occasionally, until the onions start to soften and become translucent, about 4 minutes.
Add the garlic and cook for 1 minute more. Add the milk and bring to a simmer.
A handful at a time, add the cheese to the saucepan, stirring after each addition until melted. Let the queso simmer for 2 to 3 minutes. Taste the dip (caution—it's hot!) and adjust for seasoning (be careful with salt because tortilla chips are usually already pretty salty).
Transfer the queso to a bowl. Top with some cilantro and serve with tortilla chips for dipping.