Pepperoni Pizza Monkey Bread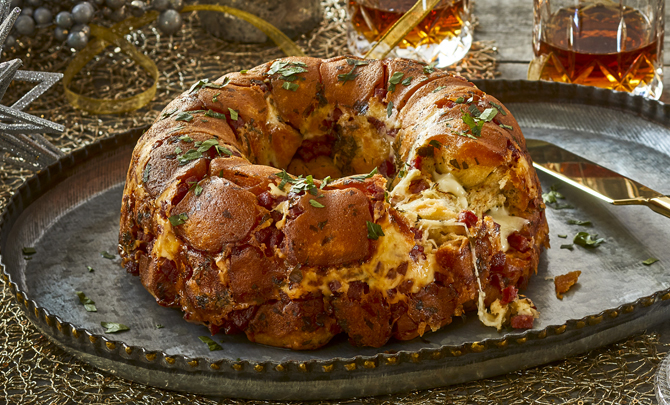 Recipe Description
Warning: mouthwatering and disappears quickly! Monkey Bread has been reinvented! 
Ingredients
1/2 cup (1 stick) butter, melted
1/2 cup minced fresh parsley
1 teaspoon garlic powder
2 tubes (12 ounces each) refrigerated buttermilk biscuits
16 ounces Burnett Dairy 5 Cheese Blend Shred (4 cups)
1 1/3 cups diced pepperoni
Minced fresh parsley
Preparation
Heat oven to 350°F.
Whisk the butter, parsley and garlic powder in a large bowl. Cut each biscuit into quarters. Coat a fourth of the biscuit pieces in the butter mixture.
Place pieces in an ungreased 10-inch fluted tube pan. Sprinkle with 1 cup 5 Cheese Blend and 1/3 cup pepperoni. Repeat layers three times, starting with coating biscuit pieces in butter mixture.
Bake, covered, for 30 minutes. Uncover; bake for 20-25 minutes longer or until golden brown. Let stand for 5 minutes. Gently run a knife around the edges of the pan to loosen if necessary. Invert onto a serving platter. Garnish with parsley.

Recipe and photo © Dairy Farmers of Wisconsin