Philly Cheesesteak Sheet-Pan Nachos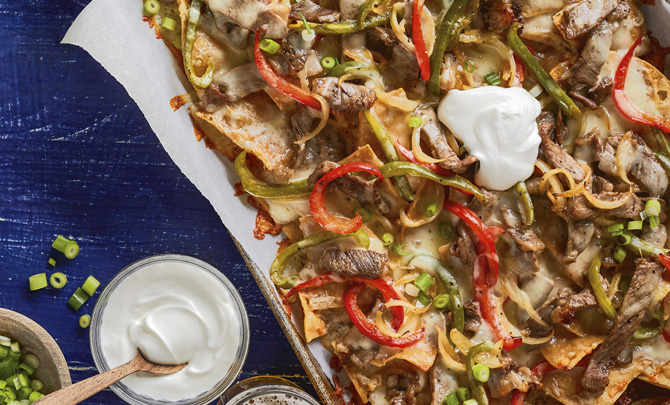 Recipe Description
Classic Philly cheesesteak and cheesy nachos makes this a perfect game-day food!
Ingredients
1 pound beef ribeye steak

2 tablespoons olive oil, divided

1 medium onion, halved and thinly sliced

1 each medium green pepper and sweet red bell pepper, cut into strips

1 bag (9 ounces) tortilla chips

Optional toppings: sliced green onions and sour cream
Preparation
Freeze steak for 40 minutes. Thinly slice steak against the grain into strips; season with salt and pepper. Warm 1 tablespoon olive oil in a large, nonstick skillet over medium-high heat. Add steak in batches; stir-fry until meat is no longer pink. Remove steak from skillet; keep warm.
Sauté onion and peppers in remaining oil in the same skillet over medium heat for 4-6 minutes or until crisp-tender. Season with salt and pepper. Remove from the heat. Add steak to skillet; toss to combine.
Heat oven to 400°F. Line a 15 x 10-inch baking pan with parchment paper. Arrange tortilla chips in a single layer on prepared pan. Sprinkle with 1 cup Mozzarella and 1 cup Provolone. Layer with half of the steak-veggie mixture. Repeat layers, starting with 1 cup Mozzarella. Sprinkle with remaining Mozzarella and Provolone. Bake for 10-12 minutes or until the cheeses are melted.
Garnish with toppings as desired. Serve immediately.

Recipe and Photo © Dairy Farmers of Wisconsin